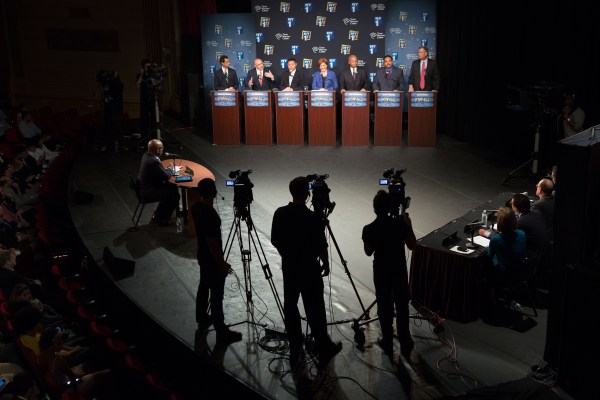 Last year at this time, Christine Quinn seemed like the inevitable mayor-in-waiting after a decade-plus of billionaire Michael Bloomberg. Anthony Weiner had yet to enter the race, and Bill de Blasio was that tall guy who seemed locked in the second tier. Mr. de Blasio, of course, is now Mister Mayor, but what happened to everyone else? The Observer caught up with some of the wannabe candidates to find out what they've been up to in Mr. de Blasio's New York.
Christine Quinn: In Hiding
Since her loss, former City Council Speaker Christine Quinn has been laying low—very low—spending time with her family while plotting her next move. She declined an interview request and has not been spotted at a single known political event, including the recent St. Pat's for All Parade, where the city's first openly LGBT and proudly Irish speaker had long been a staple.
"Chris is enjoying her time with her wife, father and extended family. She is taking her time as she explores her professional options going forward," her former campaign spokesman Mike Morey said, declining to answer additional questions. Other former associates said they hadn't heard from her in months.
Still, Ms. Quinn has been tipping her toes into the water. She recently joined the board of Athlete Ally, a group dedicated to fighting homophobia in sports, and is said to be eying other groups. As for her long-term plans, speculation abounds that Ms. Quinn will avoid a high-paid corporate gig to keep her options open for another run at public office, choosing a national advocacy gig instead.

Bill Thompson: Back on the Street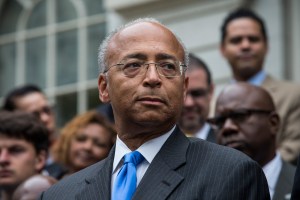 Immediately after the race, Bill Thompson returned to the Wall Street firm where he worked before his run. "I think things are going well, after I was able to recuperate, because it takes a real toll on you, running for mayor," he told the Observer. "Once I got some rest, I was back going again."
Mr. Thompson, a former city comptroller, is now the chief administration officer and senior managing director of the municipal finance end of Siebert Brandford Shank and Co., a municipal bond firm on Wall Street. The runner-up to Mr. de Blasio in the Democratic primary now travels across the country for his work, but the pace of his current gig can't compare to the 24/7 cycle of the mayor's race.
"There's nothing like it energy-wise," he said of the election. "You're going all the time, seven days a week from early morning until late at night. This is a very different pace. I have a chance to go to the gym now. I occasionally have time to go to a basketball game. I didn't have that time before."
Will the two-time mayoral candidate ever take another shot at political office? "The phrase I've used is 'never say never," he offered, "But I'm not looking to run for office at this time."
John Liu: Still Campaigning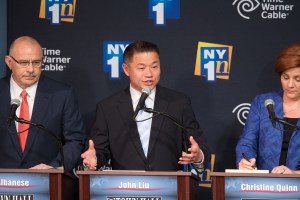 Did John Liu ever stop running?
Mr. Liu, the energetic former comptroller, continues blasting out a public schedule and attending political events, including inaugurations, banquets and civic meetings–even though he's not actively campaigning for anything.
Rumors abound that Mr. Liu is eying Congresswoman Nydia Velázquez's Brooklyn-based seat. But Mr. Liu told the Observer he's spending most of his time with his family, while also teaching a class on finance at Baruch College at night.
"Joey Liu is a very busy guy," Mr. Liu said of his 13-year-old son. "He's a swimmer. I take him swimming every Saturday and Sunday as I have for the last 12 years of his 13-year-old life. He's a chess player—we have another tournament … and he's also getting ready for little league, so I'll be taking him to the batting cage every weekend between now and tryouts."
But does Mr. Liu, an eight-year member of the City Council before serving as comptroller for one term, miss elected office? "I enjoyed all 12 years of my time in office, but I never intended to be in office for a very long time," he said.
When pressed on his political future, Mr. Liu replied, "We'll see what happens."
Anthony Weiner: Still in the Spotlight
Former Congressman Anthony Weiner bounced right back after his crushing defeat, gradually stepping back into the media spotlight, even though how he pays rent isn't completely clear.
The Observer's interview requests with Mr. Weiner were unsuccessful, but in a recent conversation with Gotham Gazette, he vaguely said he is working as a consultant.
"I'm doing some consulting with a healthcare company here. I do a little consulting for, for the next stage of Obamacare, which is to implement it," he said.
He also regularly appears as a talking head on NY1's Inside City Hall and other cable news outlets and recently launched columns in Business Insider and the Daily News.
And, of course, he's still on Twitter.
Joe Lhota: In the Private Sector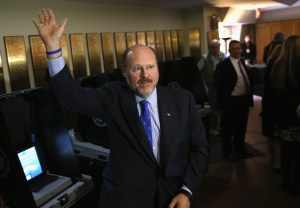 Republican contender Joe Lhota has joined NYU's Langone Medical Center as a vice president and chief of staff—ironically the job vacated by Mayor de Blasio's new First Deputy Mayor Anthony Shorris. In other words, they traded jobs. 
"I've been here two months now," Mr. Lhota told the Observer, praising the center's accomplishments in the biotech industry. "It's a fantastic position. … It's the finest health care center in the city."
Despite his bruising loss, Mr. Lhota said he thoroughly enjoyed his experience as a novice candidate on the campaign trail.
"Many people are astonished when I say how much I enjoyed campaigning—not necessarily successful campaigning, as we now know—but I enjoyed it," he said. "I got up early in the morning, I went to bed late at night, but I really enjoyed it. I went to parts of the city I hadn't been to before."
John Catsimatidis: Back to Business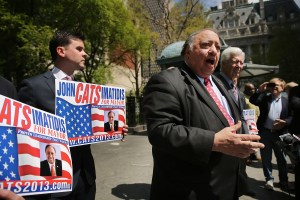 Like Mr. Thompson, Republican billionaire John Catsimatidis returned to his full-time gig running the Red Apple Group, which has a number of energy holdings in addition to the supermarket chain Gristedes.
What has he been up to since the election? "Nothing. I'm running my company," Mr. Catsimatidis told the Observer. "My company needed me back."
Mr. Catsimatidis, who has also launched his own Sunday morning radio show called The Cats Roundtable, told the Observer he missed the campaign trail.
"I miss the people," he said. "I miss going to Staten Island every night. I miss going to Brooklyn."