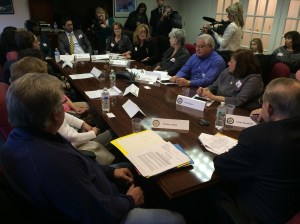 NEWARK – In the span of 13 years, Kathleen Tomko has been through two of the most traumatic events in America's recent history. A retired accountant who worked in New York's World Trade Center, Tomko survived the September 11, 2001 terrorist attacks. Still displaced from her Brick home following the devastating arrival of Hurricane Sandy in October 2012, Tomko wants to do the same thing she wanted to do in September 2001.
She wants to go home.
"No one tells you what's going on," said Tomko, 56, reflecting a common thread of frustration linking together a room of about 20 residents from across the state who came to express their concerns about the slow Sandy recovery process. "I'm determined to rebuild. The Jersey Shore is a great place, and I want to live there. But I'm paying my mortgage as well as my rent, and I've got absolutely no help from anybody."
The Monday meeting of New Jerseyans who have had a hard time getting post-Sandy assistance from both federal and state authorities, held in U.S. Senator Menendez's Newark office, underscored the senator's purpose of getting local input before heading back to Washington, D.C.
On Wednesday, Menendez will chair a a Senate Banking Subcommittee on Housing, Transportation, and Community Development hearing on Sandy recovery that will examine coordination efforts between federal, state and local officials. Housing and Urban Development Department Secretary Shaun Donovan is scheduled to testify at the hearing.
"There is enormous frustration that exists. Listening to [the residents'] stories, I can't imagine a worse system that could have been contrived to try to help these people," Menendez said. "I am going to be looking not for who's responsible, but I'm looking for solutions. In this instance, we're beyond the point of finger-pointing, but how do we get this solved."
While Menendez said that he has "worked extremely hard to be devoid of the politics" of post-Sandy recovery, the current political environment in New Jersey, which includes the state investigation of the Hurricane Sandy recovery effort directed by Gov. Chris Christie, was not entirely ignored.
"What I heard here today had a lot to do not with the federal government, but who the state contractor was, who the state officials were and a state department that is totally unresponsive to letters sent by citizens, and they get a response by no one. That's not the federal government."
No matter who is ultimately responsible, Moonachie resident Heidi Vojt, who has been living in a mold-filled mobile home with her son since Sandy, just wants relief.
"Governor Christie is blaming the federal government, the feds are blaming the state, they're all just passing the blame around," said Vojt, 52, a UPS worker. "We're getting the run-around. Get it together so we can get our lives straightened out."