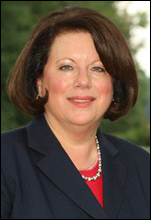 PLAINSBORO – The Middlesex County Democratic Black Caucus today endorsed State Senator Linda Greenstein (D-14) for Congress in the closely-watched Twelfth Congressional District Democratic primary.
"Linda Greenstein is a progressive leader who has a long record of fighting for women, children and the most vulnerable in our society," said Middlesex County Democratic Black Caucus Chairman Matt Vaughn. "Whether it's passing a stronger minimum wage law, leading the fight to protect funding for mammograms, cancer screenings and prenatal care or sponsoring the Paid Family Leave Act, she has consistently supported progressive values in Trenton."
Greenstein is running to succeed U.S. Rep. Rush Holt (D-12), who announced last month that he would step down when his current term expires in early 2015. She is in a highly-contested battle for the Democratic nomination with State Assemblywoman Bonnie Watson Coleman (D-15) and State Assemblyman Upendra Chivukula (D-17), among other candidates. The Twelfth Congressional District includes parts of Middlesex, Mercer, Somerset and Union counties.
"Congressman Holt has been a champion for progressive values in Washington and I am running to continue his work," said Greenstein. "For too long, our nation has been held hostage by right-wing Tea Party ideologues who want to end Medicare as we know it, slash foods stamps for working families trying to make ends meet, and eradicate unemployment benefits for those struggling to find a job. I will fight for every single resident of Central New Jersey because it's about time Congress help people who need a hand, not kick them while they're down."