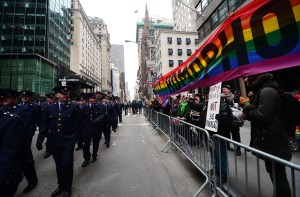 Headline of the Day: "Taoiseach finds himself in middle of big local argument over gay exclusion."
Congressman Charlie Rangel's relationship with Bill de Blasio appears to be strained. "I haven't been able to talk with him since he's been elected," Mr. Rangel told Politico. "I cannot think of anything that could cause the new mayor a problem except that I supported Willie Thompson." Politico notes: "City Hall officials declined to comment publicly on where de Blasio stands on Rangel."
The mayor's schools chancellor, Carmen Fariña, asked by NY1 what she's learned so far on the job, quoted a hard-right Oklahoma senator. "I was reading in yesterday's Times that Tom Coburn said, 'Sometimes it's better to lose doing the right thing than to win doing something that's reprehensible.' And so I think that's a really good statement," she said.
"[I]n a signal that officials are feeling confident about likelihood of funding for the program from Albany," the Daily News reports Mr. de Blasio yesterday "called a meeting of more than a dozen city agencies that will work together on the roll-out of his ambitious universal prekindergarten program."
Capital New York looked at the "de Blasio way to clean a street" in light of his new sanitation commissioner pick, Kathryn Garcia: "A reporter asked how the de Blasio sanitation department would actually differ from the Bloomberg sanitation department. 'I want to talk about it in terms of where we want to go,' de Blasio said."
Without Mr de Blasio, Gov. Andrew Cuomo or most of the City Council attending yesterday's St. Patrick's Day parade, officials like Westchester County Executive Rob Astorino ended up marching a bit by themselves. "I think religious tolerance goes both ways and respect goes both ways, and I think that was not shown, quite frankly, by them," Mr. Astorino said.
The Wall Street Journal profiled Mr. Astorino's Spanish language skills as he seeks to grab traditionally Democratic votes away from Mr. Cuomo. "It says, 'I'm not a one-dimensional white guy from Westchester,'" commented Doug Muzzio, a professor at the CUNY's School of Public Affairs. "It's good politics."