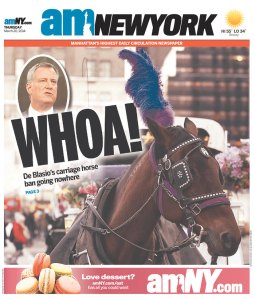 Headline of the Day: "Bye bye 'Mandate.'"
Lede of the Day: "No nookie, no workie." That was the gist of the message a source says former Gov. David Paterson sent his ex-girlfriend Pamela Bane when their relationship ended late last year."
UPKNYC, the privately financed campaign to push Mayor Bill de Blasio's plan to up taxes on the rich to fund universal pre-K, spent nearly $236,000 in January and February, "spreading much of the money among the same core group of political consultants behind his winning campaign last year," the New York Times reported. That includes more than $43,00 for BerlinRosen and $16,500 for an affiliate of Hilltop Public Solutions–which both worked on his campaign.
The group, however, has yet to disclose its funders. "Though Mr. de Blasio's team said weeks ago that it would voluntarily release a list of donors in the coming weeks, [Spokesman Dan] Levitan would not reveal how much money had been raised, or from whom," noted the Times.
Meanwhile, the pro-charter school group Families for Excellent Schools has spent $3.6 million over the past three weeks on TV ads attacking Mr. de Blasio over his decision to halt three Success Academy charter schools from using space inside traditional public school buildings, according to the Daily News. The spot blame Mr. de Blasio for taking away the children's "hopes and dreams."
And Mr. de Blasio's everyman snow-shoveling displays outside his home after this winter's storms were actually planned in advance, the New York Post reports. Schedules obtained by the paper under a Freedom of Information Act request show the mayor's camera-ready displays were "even planned from the outset to include his popular son's cameo." City Hall spokesman Phil Walzak told the paper the mayor had just been "fulfilling his obligation" to keep his sidewalk clear.
Gov. Andrew Cuomo's office has reportedly been pressuring elected officials to pull support from Mr. de Blasio's universal pre-K plan, according to Capital New York. "One New York politician, who spoke on the condition of anonymity … discussed receiving a call earlier this year from a top Cuomo aide, Joe Percoco, after publicly endorsing de Blasio's proposal … He was angry … He didn't want me to make any public statements supporting Bill de Blasio's proposal for pre-K."
"Has any New York mayor squandered a mandate faster than Bill de Blasio?" asks the Post after a pair of Quinnipiac polls this week showed "New Yorkers opposing him, often by a significant margin, on most every issue he has declared a top priority," including a tax hike on the rich, banning horse-drawn carriages, and his handling of education in general. "Plainly the message New Yorkers are sending our mayor is this: more common sense and less ideological fervor."
Mr. de Blasio's plan to ban horse-drawn carriages in the city may be more difficult than the new mayor had thought. A Newsday tally of 42 City Council members found that eight oppose the ban, 15 support it and 19 are undecided. "Oftentimes, the rhetoric of a campaign trail crashes on the rocks of reality once it's time to implement those ideas," Councilman Rory Lancman told the paper. "The votes aren't there," piled on Eric Ulrich.
"Related Cos. has struck a deal with the city to pay workers higher wages at its Hudson Yards development, rolling back an important agreement made with the developer under the prior administration," the Wall Street Journal reported. "We believe in taking every opportunity to lift up working people and to make this a city where everyone can rise together," said Mr. de Blasio, after putting his stamp on "one of the city's most high-profile projects."
And Mr. de Blasio "is close to filling another hole in his administration: chair of the city's Landmarks Preservation Commission," according to
Crain's New York Business
. Among the top contenders:
Ward Dennis
, a partner at historical consulting firm Higgins Quasebarth and Partners, LLC, and
Kate Daly
, the Landmarks Preservation Commission's current executive director.  Multiple sources told the paper the appointment "is imminent."
Cardinal
Timothy Dolan
made
some funny cracks
about the city's changing political landscape at a St. Patrick's Day dinner Monday night. "You got to admit a little nostalgia, don'tcha? Remember when the Irish ran all the politics in New York City, remember that? What do we got now? We got Astorino. We got Cuomo. We got de Blasio. We've gone from Tammany Hall to Mama Leone's. Good lord, we Irish used to argue about jobs and rent and immigration and these three guys argue about whose mom's lasagna recipe is the best," he said,
according to Capital.
And here are a couple of outtakes from the mayor's video with actor Steve Buscemi preparing for this weekend's Inner Circle Show:
[youtube http://www.youtube.com/watch?v=T_zhOrP1Lxk?list=PLRZsdJM7TEMBsUL0rfgIHkyiil7cIYPId]