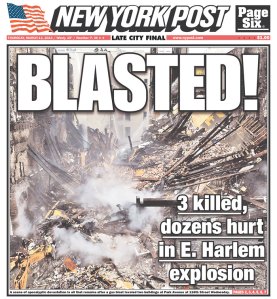 Headline of the Day: "Sore Liu-ser suing election finance board."
Former City Comptroller John Liu has sued city's Campaign Finance Board in federal court, accusing it of imposing a "death sentence" on his campaign for mayor last year by denying him nearly $4 million in public matching funds. In the suit, Mr. Liu's lawyers say he suffered "extreme mental and emotional anguish" because of the decision, which caused "incalculable damage" to his "professional reputation and earning potential," writes the Daily News.
Congressman Charlie Rangel raised some eyebrows yesterday when he described the deadly explosion that leveled two East Harlem building as his community's 9/11. "I've never had anything this horrific that's happened in my community since I've been in Washington," Mr. Rangel told NBC's local affiliate, according to Politico. "This is a very serious thing. It's our community's 9/11, even though we don't know how it started."
Mayor Bill de Blasio has asked a Manhattan judge to toss a legal challenge brought by two police unions against a city law that makes it easier for those who feel wronged to sue cops for racial profiling. The Patrolmen's Benevolent Association and the Sergeants Benevolent Association "have not demonstrated any concrete, particularized harm to their members," the mayor said in court papers this week, according to the New York Post.
The move was met with harsh words from unions' leaders. "I understand that the mayor is new to his position and most likely has not fully digested the duties and role of the NYPD," said SBA President Ed Mullins. "Bill de Blasio was elected mayor and not appointed [to be] a Supreme Court justice. Ultimately it is up to an experienced judge to make this decision." PBA President Pat Lynch piled on, saying the "misguided law … penalizes our members — NYC police officers — and the public rather than addressing bad policies."
And the city's teachers' union is warning of a mass exodus of city teachers unless they receive a significant pay boost in upcoming contract negotiations. "I am sick and tired of New York City acting like the farm system for the suburban areas around us," United Federation of Teachers President Michael Mulgrew told reporters yesterday, per the Post. More than 32,000 teachers have reportedly left their jobs over the past 11 years, which many flocking to higher-paid positions in the suburbs.