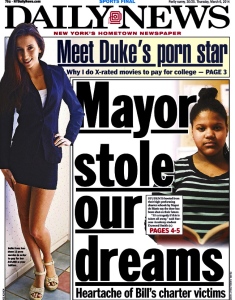 Headline of the Day: "Cat in Albany Is Outfoxing New York City's Mouse."
The New York Times is out with an A1 story exploring the fascinating power relationship between Mayor Bill de Blasio and Gov. Andrew Cuomo, who has repeatedly out-foxed the mayor. "And at every turn, Governor Cuomo has not only stymied the mayor, but also seized the moment for his own gain," they write. "And he has offered what amounts to a master class in political gamesmanship, turning the mayor's arguments upside down and boxing him out of the headlines."
Columnist Michael Powell puts it more colorfully as a game of cat-and-mouse: "Mr. de Blasio has taken the role of the impulsive mouse, demanding this cheese and that, and not quite knowing how to end his game. And Gov. Andrew M. Cuomo has taken the role of the big cat who can treat the mouse kindly — and, with a whack, send it tumbling back into its hole," he writes, "And all the while the big cat looks on with that Cheshire grin."
Meanwhile, Mr. de Blasio is about to face his first major lobbying effort from the left.  "Real Affordability for All," a new coalition of tenant groups, anti-poverty advocates and unions, is set to launch a campaign today to create more affordable housing for very low-income residents, "posing an additional challenge for the administration as it develops its own housing plan," the Wall Street Journal reports. The group "could make it more difficult for the mayor to meet his target of building or preserving 200,000 units of low-cost housing," the paper reports.
Mr. Cuomo's performance rating has dropped to its lowest level since taking office, "tumbling by 10 percentage points since November," according to a new NBC 4 New York/Wall Street Journal/Marist College poll. Mr. Cuomo's job rating now stands at 42 percent, down from 52 percent in the fall, the Journal notes. He nonetheless remains far ahead of his Republican challenger, Westchester County Executive Rob Astorino–though 47 percent of those polled still don't know who Mr. Astorino is.
And Assemblyman José Rivera has drawn a challenger–reportedly thanks to a lewd video that was first reported by Politicker. Fernando Tirado, the former district manager of Bronx's Community Board 7, told the Daily News he was convinced to run for the seat after viewing the video, which shows Mr. Rivera chatting up young women in the Dominican Republic. "I am running because I want to present a more positive view of the Bronx," he told the paper. "If we can't count on elected officials to raise the profile of the Bronx, then we don't need them anymore."
Mr. de Blasio's wife, Chirlane McCray, is apparently not a big fan of the press. "I do read the papers (but) I don't pay much attention to those that I don't have high regard for," she told the Associated Press in a sit-down interview. "I pay more attention to that which is thoughtful and well-written and well-researched because that's where you get information that you use to improve your game… That which is sloppy, who cares?"
And here's a photo of the mayor accepting his invitation to the annual Inner Circle Show. The fund-raising event typically features the mayor and the City Hall press corps roasting each other through parody skits. This year's event will take place on March 22.