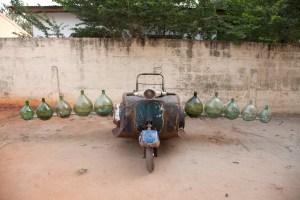 The Armory Show, home to $19 champagne flutes, half a chicken salad sandwich for $12 and Teamsters stringing lights while dealers make transactions, also featured this year artist Romuald Hazoumè. From the Republic of Benin, he sat on the edge of the booth of London's October Gallery, his dealer. He was wearing a blue dashiki and necklaces.
The gallery was selling a repurposed sculpture of sorts–two motorcycle scooters soldered together, with long metal arms jutting out of either side holding bulky empty wine jugs. This, said Mr. Hazoumè, is the way gasoline is smuggled from Nigeria into Benin, either in the jugs on the backs of smugglers, or inside the tank of the motorcycle, which with the modifications to the tank can hold up to 600 liters. Mr. Hazoumè explained that the motorcycle is made for disabled people without legs who use it as a de facto wheel chair, sitting on a small seat on the top of the contraption. They can maximize the amount of gasoline that can be carried in the tank and in dangling jerrycans because the extra limbs don't get in the way. Chili Hawes, October's director, described these rigs as "living bombs."
"These people aren't afraid of customs," said Mr. Hazoumè. "They are not afraid of fire. They want to survive. My work is to help these people."
It's not often that you see real live artists at these kinds of trade shows. It's their creativity being rapidly sold off for the best rate, after all, and who actually wants to see how the sausage gets made? (The old adage is that an artist at an art fair is like a whore at a pimp convention.) The scooter was for sale for somewhere in the low six figures–Ms. Hawes asked that we not print the exact number–but Mr. Hazoumè described the booth as more of a solo show, and more thoughtful than the typical booth. When asked if he comes to art fairs often, Mr. Hazoumè grimaced.
"No, no, no, no, no, no," he said. He didn't love the idea of being in this environment, but he saw it as a necessary evil. He walked over to a screen on the outer wall of the booth, playing documentary footage of smugglers, weighted down with gasoline, racing along dirt roads. "I'm happy to be at the Armory. For people to understand this, I need to be here to talk to them. You need to see how these people carry petrol."