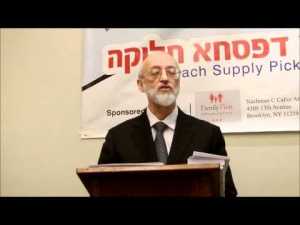 Nachman Caller, an attorney and Republican district leader, is planning to run against Brooklyn Assemblyman Dov Hikind, sources familiar with Mr. Caller's plans tell the Observer.
If Mr. Caller goes ahead with the bid, it would be the first significant challenge that Mr. Hikind, a conservative Democrat, has faced in many years.
"Hikind never had a serious challenge on the Republican line. He always had the Republican line in the past," said one insider in the Boro Park-based district. "He's a respected leader in community and has money to spend. The question is: how would a serious challenger fare against Hikind? There's no real answer … but Caller is somebody that Hikind can't attack as a troublemaker, a nobody."
Mr. Hikind has presided over the heavily Orthodox Jewish seat for three decades. A larger-than-life figure, he is known for his strident support of Israel and his weekly radio show–making any efforts to dethrone him an uphill battle.
But Mr. Caller has the advantage of being a Republican in a right-leaning district that supported Republicans like presidential contender Mitt Romney and mayoral candidate Joe Lhota. Mr. Caller, however, makes some local Republicans wary because he previously backed out of races for the City Council and State Senate.
"I think Nachman needs to be serious. He's run in the past and hasn't followed through," said a Republican operative. "Dov is very formidable. I don't look at him being soft."
Mr. Hikind is also sitting on a million-dollar war chest, though Mr. Caller is said to be capable of self-funding a bid.
A woman who answered Mr. Caller's phone this morning ended the call when asked about the political campaign. Mr. Caller later answered the phone, but similarly hung up when the topic was broached.
Mr. Hikind did not immediately respond to a request for comment.
Additional reporting by Colin Campbell.