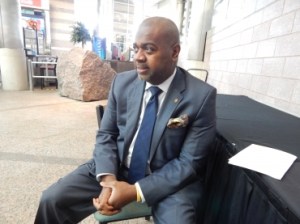 NEWARK – A new commercial supporting the Newark mayoral candidacy of Ras Baraka, financed by independent expenditure funds, hits the Newark-area cable airwaves on Tuesday for the foreseeable future.
The 30-second TV spot, called "Shut," was produced by longtime New Jersey campaign media professional Brad Lawrence of New Brunswick's Message and Media – who has worked on the past three winning mayoral campaigns in Newark – and Joshua Henne of White Horse Strategies.
Benenson Strategy Group, President Barack Obama's pollster, also was commissioned to work on this project, unveiled 48 days before Newark voters go to the polls.
The spot conveys the message that Baraka's main rival in the race, former state Assistant Attorney General Shavar Jeffries, is standing with the wrong people and is not with the people of Newark. The campaign ad also depicts the same wealthy, outside interests, such as Wall Street hedge fund managers who back Gov. Chris Christie and Christie's controversial, personally-picked Newark School Superintendent, Cami Anderson, as being behind Jeffries.
The spot is paid for by the Working Families Organization, according to the final tag line.