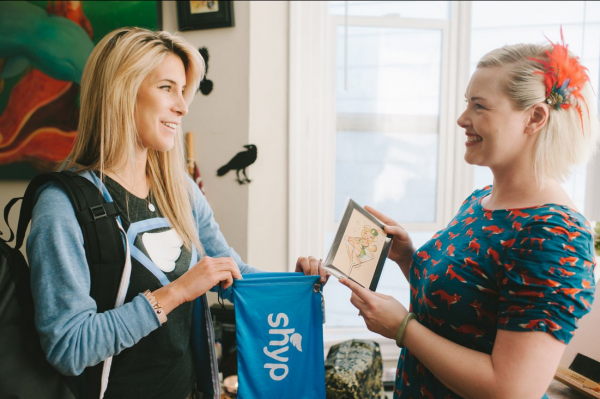 We know it's a total #millennialproblem, but mailing stuff is really hard — especially objects that aren't letters. You have to find the right-sized box, haul it to the post office, and then wait in line for the person behind the desk to inevitably yell at you when she discovers you wrote the return address in the wrong place. The whole thing is really traumatizing, if you ask us.
But starting today, you can download Shyp, an app that takes all the headache out of the package mailing process. All you have to do is take a photo of the item you want to mail, and specify where you'd like it to go. Shyp takes care of the rest. They'll immediately send somebody to your home or office to package your shipment and transport it to Shyp's warehouse, from which point it'll be sent off on its merry way with the appropriate shipping carrier. Shyp will even deal with all the customs stuff, if you're sending something internationally.
Kevin Gibbon, Shyp's cofounder and CEO, was inspired to create Shyp from his days as an eBay power seller. He'd be doing hundreds of thousands of dollars in revenue, but struggled when it came to shipping out all the items he was selling.
"It was definitely the biggest headache I had," he told Betabeat. "There hasn't been any innovation in this space for decades."
Mr. Gibbon and his cofounder, Joshua Scott, launched the app's beta phase in San Francisco in January.
"It's been overwhelmingly positive," Mr. Gibbon said. "Since January, we've already done thousands of shipments all around the world, so it's been really great. Seventy percent are businesses. We have people using it every single day — you just forget about the other options."
Users can ship any item, as long as it isn't illegal (no drugs) and can fit into the backseat of a car (so Shyp's "heroes" can transport it to the company's warehouse). If your item for some reason gets mangled or irretrievably lost, Shyp will cover up to $1000 in damages.
If you're moving apartments and need to transport lots of boxes, Shyp claims to be way more cost effective than hiring movers.
Mr. Gibbon said he wants to make it easier for people to do nice things for each other. Since launching the product, for instance, he said he's been able to send more gifts to his family back in Canada — before, dealing with customs made it all too difficult (different countries have different rules about the size and weight of packages you can send, and they also require you to fill out special forms).
"If somebody's in Iraq, there are a lot of customs that go along with that," Mr. Gibbon said. "Using Shyp, it's just another address." CUTE, RIGHT?
The app is still only available in SF, but don't fret. Mr. Gibbon said an expansion to New York is "definitely at the top of our radar."