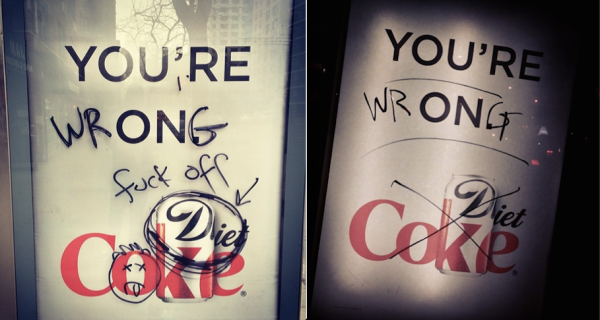 1. Diet Coke
By now, you've probably seen/heard about Diet Coke's new blatant "You're On Coke" campaign. If you've ever heard Diet Coke addicts gush about their obsession for the crap, then you know that Coca-Cola absolutely did this on purpose. They've officially denied any drug connection, saying, "The Diet Coke logo is the centerpiece of the ad campaign. Diet Coke in no way endorses or supports the use of any illegal substance."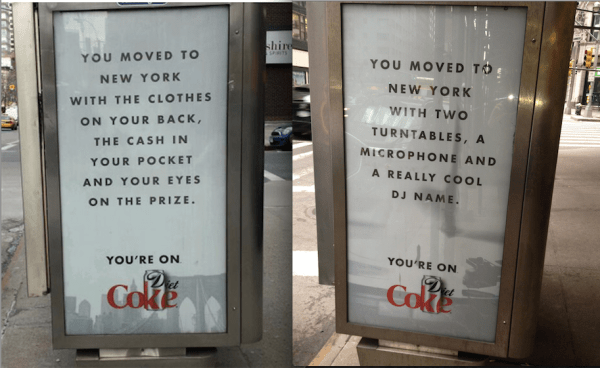 I think the tagline is pure genius—it's cool, and the anti-drug backlash, in 2014, just makes it cooler. However, the ad copy—aimed at millennial newbies—is just clichéd garbage. "Your eyes on the prize?" More like rolling in the back of your head. The San Francisco executions are only a smidge better.
New York City ad agency Droga5 created the campaign. "Drogas" means "drugs" in Spanish, just an aside.
A serial downtown adbuster has taken his/her Sharpie to the campaign.
2. The Art Of Shaving
As of last week, this Christmas campaign via The "Art" Of Shaving® (a P&G company) was still plastered on half of an A train car I was riding. Another line read: "I WILL MAKE MYSELF MISTLETOE READY." All the ads are prefaced with the all-caps command: "REPEAT AFTER US."
Author and cartoonist Hugh MacLeod penned a popular anti-advertising phrase that you may have come across in your internet travels: "If you talked to people they way advertising talked to people, they'd punch you in the face." This doesn't apply to all advertising, of course, but imagine what you'd do to a co-worker who prefaced his early morning announcements by shouting in your face "REPEAT AFTER ME…"
Such obnoxious ad language probably isn't helping Procter & Gamble's plummeting razor sales.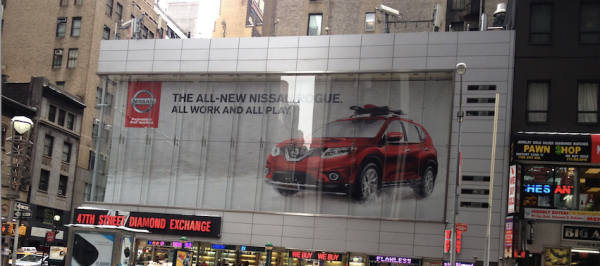 3. Nissan Rogue
This ugly billboard is up on the corner of Sixth Avenue and 47th street. Now: as a copywriter with 20 years experience of having clients change my "clever" lines into shit-awful lines, I can't immediately 100% blame the adman/woman here, as this feels like a client line, logic be damned.
Imagined agency presentation with Nissan marketing director:
MARKETING DIRECTOR: I wrote some thoughts last night. How bout: "ALL WORK AND ALL PLAY?!?
COPYWRITER: "But, it can't be all both thi…"
INTERRUPTING ASS-KISSING ACCOUNT EXECUTIVE: "THAT fucking nails it, great line, sir! It's so…rogue!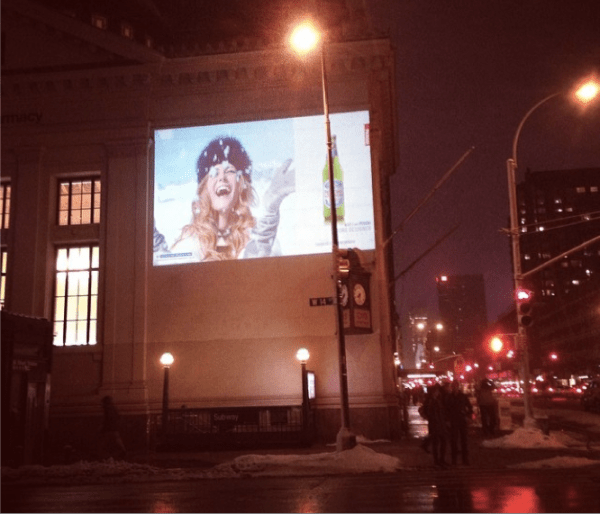 4. Peroni
All I can say about this projected Peroni billboard on 14th Street and 8th Avenue, featuring a woman rapturously enjoying the snowfall is—and I think I speak for most New Yorkers, at this point—GET THE FUCK OUT OF MY CITY, STUPID DRUNK MODEL.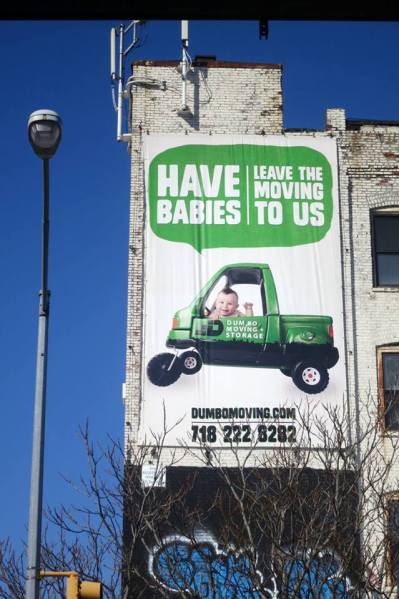 5. Dumbo Moving
Lastly, we have a sight quite familiar to Brooklynites—the procreation promoting billboards of Dumbo Moving (this one is up at Meeker & North 6th in Williamsburg). It is, in fact, its tagline.
New York City has been home to many, many obnoxious local ad campaigns—the Jew-mocking Wodka holiday billboard from 2011 comes to mind. The first thing that comes to mind with these steam-out-the-ears inciting billboards is that they're maybe co-op ads, secretly funded by Corcoran and other big City realtors? Corcoran fucking loves big babies.
NOTE: If you spot a particularly egregious outdoor or underground ad, please send it to copyranter at Gmail. Thank you.