So many eloquent speeches at last week's Academy Awards—from Cate, Ellen, Lupita, you know the rest. But can we agree that Dallas Buyers Club star Jared Leto, with his Jesus–rivaling coif, took the bouquet?
"To all of the dreamers out there around the world watching this tonight, in places like the Ukraine and Venezuela, I want to say, 'We are here,'" Mr. Leto declared. "As you struggle to make your dreams happen, to live the impossible, we're thinking of you tonight." A little later he added, "And this is for the 36 million people who have lost the battle to AIDS and to those of you out there who have ever felt injustice because of who you are or who you love. Tonight, I stand here in front of the world with you and for you."
Afterward, in the green room, Mr. Leto, wearing an ivory Saint Laurent tuxedo, explained his reasons for going political.
"We [Thirty Seconds to Mars, Mr. Leto's band] have a show in the Ukraine in a couple of weeks," he said. "We have a show in Thailand. We had a show in Venezuela in the works. So these things, social unrest, you know, social issues like this, affect us in a really immediate way. I felt on behalf of the people that I interact with on Instagram and Twitter and Facebook and my own interests as, you know, a global—being a person in a global band—it was important to address those things."
Nevertheless, before heading off to join the uprising, Mr. Leto was off to party. "Trust me," the actor/musician smilingly proclaimed. "Look me in the eyes and see that I will revel tonight. If they only knew what was going to happen tonight. The stories we would have to tell!"
Shindigger was off to party too but in New York rather than L.A., as Armory Arts Week and a blitz of winter balls waged war on the social calendar. The evening following the Oscars, the School of American Ballet glitzily celebrated its 80th anniversary at Lincoln Center's David H. Koch Theater, with some 500 benefactors enjoying Champagne and hors d'oeuvres while showing off their recent jewelry "investments," as $1.2 million for scholarships and school programs poured in. Soon, the dinner bell clanged, and the welcome addresses began.
"SAB is preparing children for success in one of the old études," offered billionaire co-chairwoman Julia Koch. "Yes, SAB trains dancers, but it also trains students to be stars."
This line of thought was picked up by fellow co-chair Diana DiMenna, who told Shindigger, "To be a good dancer, one ultimately has to be a good person," which she said came from Mikhail Baryshnikov, who happened to be seated at her table. Ms. DiMenna also averred that while "it's easy to look at something like the ballet and think it frivolous, especially given what's going on in the world, the arts are where our humanity is, and if we lose that, we will only see more violence and destruction." (Clearly, Ms. DiMenna had watched the Academy Awards and heard Mr. Leto.) "We, the fortunate, have a responsibility to deal with both," she continued. "They're like a clamshell: One will not close without the other."
"I was glued to the Oscars and Twitter!" financial power player Alexandra Lebenthal enthused the following evening, at the Art Dealers Association of America gala preview benefiting the Henry Street Settlement. "Lupita was my highlight," she divulged, placing a hand on her black Honor dress. "I was gasping, crying, from the moment her name was announced."
As for gallivanting between charity trysts during spasms of geopolitical tension, Ms. Lebenthal took a similar stance to Ms. DiMenna.
"It's supporting a charity that's important to New York," she maintained. "SAB was beautiful, but it's actually paying for kids to study ballet who can't pay for it all on their own. Underneath all the glamour, we're actually helping people."
Later in the week, more dance was on the schedule.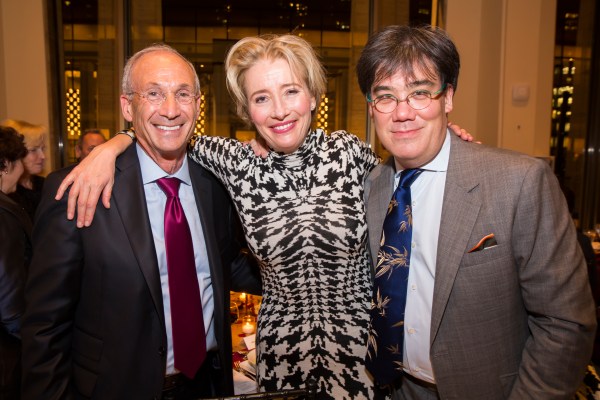 "We're all here to support Tom, and the ballet is fantastic!" chirped co-chair Gillian Miniter at the dinner for Tom Gold Dance gala at Brasserie Cognac. Ms. Miniter confessed she had not watched the Oscars. "I watched House of Cards instead," she said.
"Dance is a universal language," said Mr. Gold, who wore a red tartan Thom Browne blazer and told Shindigger that, despite the world's troubles, dance has the power to unite us peacefully. "We all move," he noted.
Shindigger's most significant delight took place on Wednesday at the New York Philharmonic spring gala, where a stupendous production of Stephen Sondheim's Sweeney Todd: The Demon Barber of Fleet Street took place. The sinister musical starred bass-baritone Bryn Terfel as the vengeful title character, and two-time Academy Award-winner Emma Thompson as Mrs. Lovett, in a New York stage debut. Five-time Tony winner Audra McDonald made a surprise appearance, reprising her role as the the Beggar Woman, while Tony-winner Christian Borle played the flamboyant barbiere, Mr. Pirelli. The sold-out audience went wild for Ms. Thompson's turn as the kooky meat pie maker-turned-murderess. While her voice lacked the crisp control and range of Angela Lansbury or Patti Lupone, her humor was unbeatable. Meanwhile, Mr. Terfel's interpretation was surprisingly eerie, and behind it all was a phenomenal orchestra playing the knotty score with panache.
"This has been the biggest night of my professional career!" Ms. Thompson raved, as patrons polished off English pea soup with mint flan. "Don't put the ears in whole," she then giggled, returning to character. "You have to chop them up very slowly. I picked that up from Nigella."
A selection of meat pies stood nearby, perused by the likes of Mr. Sondheim himself as well as Bernadette Peters, Neil Patrick Harris and none other than Governor Andrew Cuomo. Shindigger struck up a conversation with Karen LeFrak.
"You knew it was going to be fabulous!" the benefactor and children's author cooed, adjusting her scarlet Louis Vuitton dress. "The camaraderie, humor and laughter become uplifting, it becomes contagious, and you forget what's going on in the outside world, which is important for all of us."