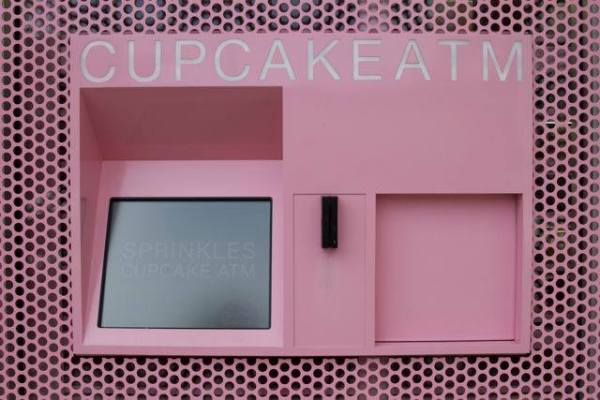 Imagine: It's 2:00am. You're sad and depressed. Maybe you just got dumped. Maybe you had a tough day at work. Maybe you found out the Mongolian government just introduced incredibly strange internet censorship laws, and now you can't Google search "female hygiene accessory" on your annual summer vacation to Ulan Bator. You could really use a baked good but you don't want to face a judgmental bakery cashier in your vulnerable state.
That's when you notice a hot pink ATM on the block ahead. As you walk closer, you come to a beautiful realization: this ATM dispenses cupcakes.
This is not some weed-induced munchies fantasy. LA-Based Sprinkles Cupcakes is opening a cupcake ATM outside its Midtown East location on March 25. The machine can hold up to 760 cupcakes, cookies and other treats. Best of all, it's open 24/7. So you can indulge in baked deliciousness anytime you want without actually having to speak to anyone.
That's not all. According to a post on the Sprinkles Facebook page, if you try out the ATM on opening day, you might find a golden ticket in your cupcake, which will mean you've won a $500 Amex gift card, a Sprinkles gift card or a free "Sprinkles party" in the bakery's party room.
Yes, you could have a private cupcake party. There's no better way to rebound from a bad breakup than binge-eating.
And if you're away from New York when cookie craving strikes? Have no fear. Sprinkles has other ATMs in Beverly Hills, Atlanta, Chicago and Dallas. Just make sure you're not spending so much money that when you head over to a real ATM, your card gets denied.