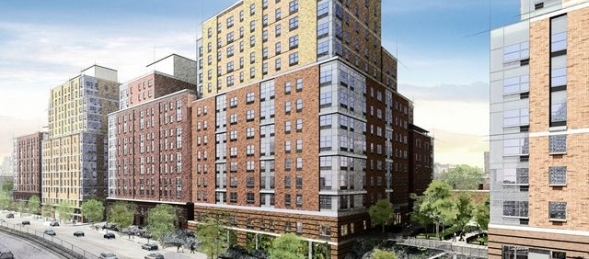 Last summer, the Federal Sequestration sapped sorely-needed funds from Section 8 program, depriving the city's affordable housing subsidy of $120 million in funding at a time when rents continued to rise in neighborhoods across the city, pushing more and more families and individuals into homelessness.
Some nine months later, New York has a new mayor who has made affordable housing one of the central pillars of his administration's goals and vowed to end the city's homelessness crisis. Despite taking steps that advocates have praised, the numbers of homeless individuals has continued to rise and Mayor de Blasio will also be challenged by an ongoing paucity of federal funds for low-income housing, despite increases that returned funding to pre-sequestration levels or slightly higher, according to a new report by the Independent Budget Office.
While an omnibus bill passed this January restored or even slightly improved funding for the city's affordable housing programs—Section 8, NYCHA and the Home Program (a source of capital funding for the city's supportive housing programs)—the new funding has simply staunched the bleeding, rather than leading to anything resembling a real recovery for the programs, reports the IBO. Funding levels remains far short of what they were 5 or 10 years ago, and may recede further as the number of program participants falls (the department of Housing and Preservation and Development, wary of ongoing budget cuts, closed the waiting list for new Section 8 applicants years ago).
This year, some 2,300 fewer households are receiving Section 8 rental assistance than in 2013, the IBO reports, which breaks down to approximately 300 fewer HPD vouchers and 2,000 fewer NYCHA vouchers.
HPD continues to employ unpopular cost-cutting maneuvers so as to avoid revoking existing vouchers. Among the measures it has taken are cutting the maximum subsidies that individuals can receive from 110 percent of fair market rent to 105 percent, and forcing some voucher recipients to move into smaller apartments or pay the difference. (The elderly, disabled and veterans have been excluded from such requirements.) Details of agency-specific funding have yet to be released by the federal government, but even with the increases, the cost of the programs is still expected to exceed the funding streams. Additionally, NYCHA policies have shifted costs onto voucher recipients with decreased utility allowances and the agency has also barred any transfers to other apartments with higher rents.
But in one sign of potentially brighter days ahead, HPD reportedly plans to begin issuing vouchers again this year—a request for comment from the agency has not yet been returned—even while keeping cost-saving measures in place given that funding remains far short of what it was several years ago. (For example, the agency is expected to receive a federal capital funding grant of $60 million, which is a $2.5 million increase over last year, but less than half the $125 million it received four years ago).
NYCHA will be similarly better, but still under, funded, receiving approximately 89 percent of its $1.01 billion need, an improvement over last year's 82 percent, but one that will nonetheless require penny pinching.