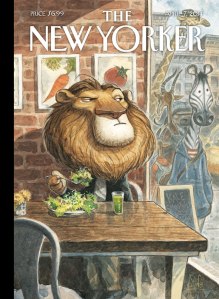 The cover of this week's New Yorker by Peter de Sève shows an unhappy lion eating a salad and drinking a green juice at what looks like a farm to table restaurant (there is a mason jar vase). A zebra in a hoodie and messenger bag outside the window walks by a chalkboard sign advertising kale smoothies.
When New Yorker arts editors Mina Kaneko and Francoise Mouly heard that Mr. de Sève has "tried for years and failed" to become a vegetarian, they decided to conduct an informal survey of the eating habits of their artists.
Turns out, 78.36 percent of New Yorker artists eat meat, which is, as one would imagine, much lower than the national average (according to a study by Vegetarian Times, 3.2 percent of Americans follow a vegetarian-based diet).
But even though the majority eats meat, it doesn't mean they enjoy it.
"I know I should be," Roz Chast told her editors. "Both of my kids are vegetarians. They're right, I'm wrong."
Ms. Chast's kids, we imagine, are celebrating somewhere over some seitan kebabs.
Maira Kalman, meanwhile, is more of a fallen vegetarian.
"I was a vegetarian for two years," Ms. Kalman said. "One day, I woke up and thought that if I did not have a hamburger right then and there, there would be hell to pay. But I do try to follow the advice of Thomas Jefferson: think of meat as a side dish."
Speaking of side dishes, artist Ed Sorel is our personal hero for managing not to know about the ubiquitous quinoa.