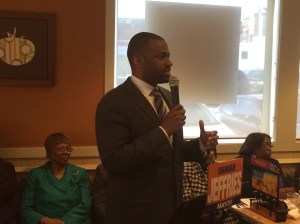 NEWARK – Essex County Freeholder President Blonnie Watson endorsed Newark mayoral candidate Shavar Jeffries in a place known for pancakes but that became marked by tragedy a year ago this month.
On March 23, 2013, Papa Khaly Ndiaye, 30, a Senegalese immigrant who managed the popular IHOP restaurant on Bergen Street, was shot and killed in the crossfire of an argument that turned deadly. His killer has yet to be found.
Standing in the same IHOP a year and a day later, Watson remembered the fear in the air during the volatile days of the 1960s civil rights struggle and Newark's 1967 civil disturbances. But it was a different type of volatility that compelled her to endorse Jeffries.
"The city of Newark, my home, is in trouble," Watson, who was first elected to the freeholder board in 1996, said. "Today, the city of Newark is plagued by senseless violence. I chose this place to speak with you today because it represents this history. Right at this place, someone just doing his job to provide for his family was killed. The city is failing our children, our seniors and every one of us that calls Newark home. With the decline in public safety, basic city services and financial chaos that puts the city close to a state [financial] takeover, I can't remain silent on who I believe will make the best mayor for Newark during these difficult times."
Watson was joined by Freeholder Vice-President Patricia Sebold and Freeholder D. Bilal Beasley in endorsing Jeffries with 50 days left in the Newark mayoral campaign, which pits former state Assistant Attorney General Jeffries against South Ward Councilman Ras Baraka.
"There are few things more important to [Watson] that the future of this city," Jeffries said as he accepted the endorsement. "We went through a deep, long process, because she was going to make sure that every last question that she had was answered. These are huge issues or the future of our city, and the future of our city is on the line.
"Our city is in absolute crisis. A year ago, a young man lost his life at work, doing the mundane things that we should all be able to do," Jeffries added. "If we don't elect the right leadership that makes the right investments to move this city forward, our city will fall. We will be on the path to Detroit, rather than realizing the full and amazing potential that we have."
In comments to PolitickerNJ.com after the endorsement event, Jeffries again challenged Baraka regarding Newark's public safety problems.
"When murder is up 70 percent in the South Ward, that's not a formula for the growth of the city," Jeffries said as the lunchtime crowd began to hustle in. "My opponent has presided over that, and has had no plans to address it. In contrast, we have a bold and effective crime plan rooted in the experience I have in the state Attorney General's office, where we were able to reduce violent crime three years in a row. If we're going to grow this city, safety and security is the foundation for everything."