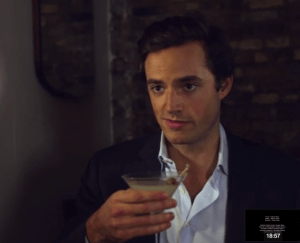 Sometimes a first Tinder date is so catastrophically bad, it becomes laughable. That's the case, at least, in the new pilot for a possible web series called "Local Attraction," wherein actors play out a Tinder dinner date gone horribly (and hilariously) wrong.
In the episode, a nice woman named Maeve meets up for a date with Trent, a Wall Street guy who's so gross and pretentious, he's never heard of the F train and doesn't seem to understand the concept of people living in Brooklyn. He also refers to martinis as "'tinis," which might be enough for us to never casually download Tinder "for research purposes" ever again.
[youtube http://www.youtube.com/watch?v=Q7vBbIo31z0&w=560&h=315]
The video was written and directed by Connor Hines, with whom — full disclosure — I took theater class in undergrad. Mr. Hines also plays the "Trent" character, alongside Katie Corwin as "Maeve" and Diana Stern — with whom I also took theater class — as the waitress.
"My friends, some of them go on what feels like twelve [Tinder] dates a week," Mr. Hines told Betabeat. "It's amazing — morning coffee, lunch, Sunday walks in Brooklyn — I found it astounding. The stories that they had,  I couldn't believe. Somebody needs to be doing something with this."
When Mr. Hines first posted the video, he "was hoping for 250 hits," he said. "I was like, my mom and her book club will probably check it out, and that will be the end of it."
But in the week and a half since it hit YouTube, the "Local Attraction" pilot has already raked in over 10,000 views — clearly striking a chord with young people well-versed in the potential woes of online dating.
"I was astounded by how many people felt that they related to the experience," Mr. Hines said. "… I sort of thought I was taking it to the extreme, but I'm getting messages like, 'I've been on a date with someone like Trent.' I'm like, 'Are you alright?'"
The pilot episode was funded out of pocket, but Mr. Hines said he's going to have to start a Kickstarter campaign to finance the rest of the web series, which he's currently in the process of writing.
"[I'm] just going to write until I hit a wall," he said. "Right now I have maybe eight episodes in mind that I'd love to do."
Funnily enough, Mr. Hines admitted he doesn't personally use Tinder.
"I do not have the nerves to go into a blind date," he said. "It would give me too much anxiety."
We feel you — especially if the blind date involved anyone whose personality was remotely similar to Trent's.