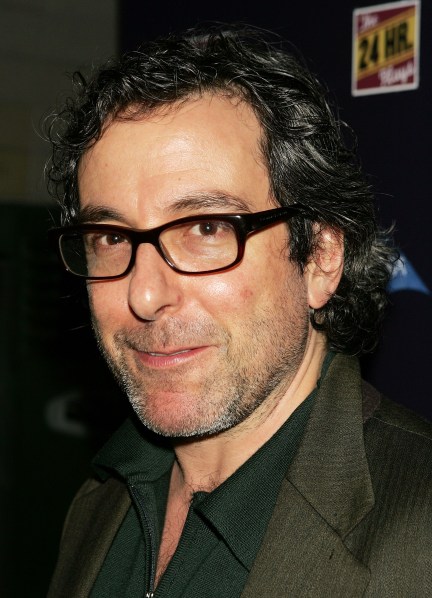 In one of the rare writers' rooms located in New York, playwright Warren Leight presides over a staff of five, discussing one of his show's upcoming episodes. Paternal and casually untidy, the 57-year-old Mr. Leight certainly looks the part of a Tony Award winner and Pulitzer Prize nominee (both for Side Man, his 1998 drama.) What's harder to reconcile is Mr. Leight, a celebrated, nothing-if-not-thoughtful man of letters taking a leading role on one of TV's lighter procedurals: Law & Order: Special Victims Unit.
But maybe it's not so hard to understand after all.
"TV is a show runner's medium," said Mr. Leight. "I have more creative control as a show runner of Law & Order than I would ever have of a movie. A playwright has the most creative control, but you can't eat creative control."
In the past, playwrights who went to L.A. to write for TV were considered the true Barton Finks. The belief that TV writing was "selling out" held strong in theater circles.
Things changed in the '90s, however, with the advent of shows like The Sopranos. Suddenly, TV was literary. It was intelligent. It was—dare we say?—art. (Well, sometimes.)
Some in the theater community, fearing a brain drain of creative new voices to Hollywood, were unnerved. But according to Polly Carl, the director and editor of HowlRound: A Center for the Theater Commons at Emerson College, the two worlds found a way to benefit off each other: "When I first started working in theater, most playwrights I knew wanted to write plays. And now, most of the writers I know coming out of M.F.A. programs are planning and expecting that they will write both. It's an amenable atmosphere."
In helping TV make the transition to artistic respectability, playwrights like Aaron Sorkin, who jumped early from writing stage plays to teleplays for shows like The West Wing, were key. Yet while New York is the unquestioned capital of the theater world and probably home to more published writers in general than all other cities in America combined, it remains, for various reasons, a difficult place to get a writing job on a TV show.
According to Lowell Peterson, the executive director of the Writers Guild of America East, "The average year, you'll have four to five active shows being written in New York—sometimes a little more, sometimes a little less." Right now, he says, the number of writers staffed on episodic, fictional series in New York is "steady to declining."
One show that is written in New York is Netflix's House of Cards, arguably the hottest show on television (or laptop). House of Cards' show runner, a 36-year-old wunderkind named Beau Willimon, is also a playwright and staffs his show with playwrights.
"The revolution in TV that started in the '90s was due to the fact that a lot of playwrights were getting into television," said the hyper-intense Willimon. "When you think of Oz, HBO's first foray into original programming, it was Tom Fontana, who started in the theater. It was Craig Wright [Lost, Six Feet Under]; it was Theresa Rebeck [Dream On]. You have these amazing writers who came out of the theater, some of whom remain active in it. They also staffed a lot of playwrights on their shows."
In other words, that degree in dramaturgy from Sarah Lawrence may not have been such a bad idea after all. The lowest-level staff writer on a network show can make around $3,700 per week, or $96,000 per year on a typical network show with 22 episodes and 26 weeks in development, according to numbers from the Writers Guild of America crunched by Defamer. A higher level writer can make $157,000. A show runner can make exponentially more, as Mad Men's Matthew Weiner proved by negotiating a three-year contract for $25 million to $30 million.
These numbers are staggering when you consider how little theater pays.
"A very good commission for an off-Broadway play is $10,000," said Mr. Willimon. "Let's say you get three commissions a year. That's $30,000 for one year—an almost impossibly good year."
Unless you're Mr. Willimon. As a young playwright at Columbia, then Juilliard, the writer and force of nature was able to get his WGA card after pitching a show to AMC, despite it never being produced. The play, called Farragut North, was already in Hollywood going through the process of becoming a hit film (2011's The Ides of March, produced by George Clooney and Leonardo DiCaprio, with Ryan Gosling in the lead) before it—or any of his other plays, of which there are 12—touched a stage anywhere.
Currently, Mr. Willimon is writing season three of House of Cards while preparing to raise the curtain on Breathing Time, a play he wrote in 2009, which opens at the Fault Line Theater on March 21. Like Mr. Willimon, four of the six writers on House of Cards are playwrights. However, his particular experience in television is not the norm, he says.
"I was dealt a royal flush," he says. "At Netflix, we had incredible creative freedom, the resources to make whatever we wanted and top-notch talent." Mr. Willimon's show was also reportedly given a $100 million deal and a guarantee of two seasons, which is absolutely not the way most television works.
Of course, as anyone who has tried to secure a parking space in Brooklyn or Manhattan lately knows, TV writing gigs may be scarce, but TV shoots are not, which points to a fundamental discrepancy in the way the industry works. Part of the reason Hollywood loves shooting in New York is that New York State provides a tax credit to most of the crews and unions. It does not, however, provide such a credit to writers.
"They've somehow decided that while the craft union is crew, the writer's union is above the line and doesn't qualify," said Mr. Leight. "So there's no financial incentive for the producers to have writers here."
One positive trend: "We're seeing late-night variety shows as a steady to growing field," Mr. Peterson told the Observer. "There is an enormous increase in show writing there, but those don't pull as often from the playwriting community as from the comedy scene." (Think stand-ups and Twitter comedians who get employed by Jimmy Fallon and Seth Meyers.)
One TV writer with a background in both Twitter/comedy and playwriting is Alena Smith, currently staffed on Mr. Sorkin's The Newsroom. "Fuck theater's sense of superiority," snapped Ms. Smith, who told the Observer she had become frustrated with the pace of getting a theatrical show produced in New York. "I had written a play about Occupy Wall Street and finished it in fall of 2012," she said. "It's had four readings. One was directed by Bob Balaban. One had Phylicia Rashād in it. But it takes so long. This isn't the way we should be having this cultural conversation."
"I don't think people understand how hard it is for playwrights," she added. "Playwrights may have massive control over their own play, but for the vast majority of working playwrights, day to day, you don't have that much power."
Not everyone feels the need to choose. Ms. Carl, who admitted to being one of the holdouts on going to TV, now says she can see a symbiotic relationship between the mediums: "It broadens the community. On social media, you'll see, 'So and so just wrote their House of Cards episode,' or 'Oh, this is somebody's Breaking Bad episode.' You sense the impact playwrights are having in this other world."
"Maybe this is a very theater-centric perspective," she continued. "But it seems like they identify as playwrights first and foremost, and there's a sense of pride in that now, instead of a sense of loss."