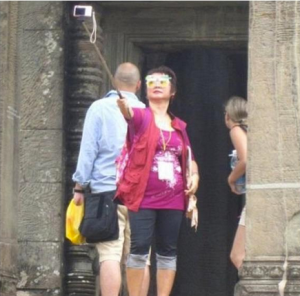 Ellen herself admitted it: the one thing plaguing her epic Oscars selfie was that Bradley Cooper, who took the photo, didn't have a longer arm. It's too bad he didn't have a selfie stick.
According to the Huffington Post, monopods — nicknamed "selfie sticks" — are all the rage among teens in Southeast Asia. They're these ingenious long metal wands with a clip at the end to hold your digital camera or smartphone — users simply set their phone's camera timer, clip the phone to the end of the wand, and then use the device to take a selfie with 20 of their closest friends.
The Huffington Post notes that using a selfie stick is way easier than bugging a stranger to take a photo of you and your friends. Plus, strangers never know to take the photo at that flattering, slightly-tilted-down angle that makes selfies just so darn attractive.
Various brands of selfie sticks are available online for around $20.
Search #selfiestick on social media, and you'll find some great examples of what this unbelievable device can do:
Note that they're also great for capturing expansive background landscapes, if you're into the "outdoors":
Our birthday's only five months away so please go ahead and buy us a selfie stick now.