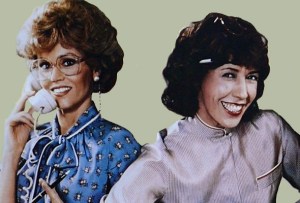 Congrats, ladies over 35! It turns out you can find yourself represented on television … well, at least premium and streaming content. From that weird pronouncement by Beadie on GIRLS to HBO's Getting On and the new Doll & Em—which looks like Extras, if one of the characters was actually famous and a lady and 40 (Emily Mortimer from The Newsroom)—to the announcement of Netflix's latest acquisition of Gracie & Frankie, we're not just in the Golden Age of TV; we're entering a new Golden Girls Age as well. Oof, I'm sorry. You see where I was going with this, right?

Jane Fonda and Lily Tomlin will be starring in Grace & Frankie, created by Friends's Marta Kauffman and Howard J. Morris (Sullivan & Son). The half-hour comedy has been picked up for 13 episodes. You will remember that Ms. Tomlin and Ms. Fonda were both in the seminal 9 to 5 together, begging the question: "How soon until Dolly Parton makes a cameo?"
Here's a recap of the show, according to Deadline:
Grace And Frankie stars good friends Fonda and Tomlin as long-time nemeses Grace (Fonda) and Frankie (Tomlin) who are facing the last chapter of their lives. When their husbands announce they are in love with each other and plan to get married, the women find their lives both turned upside down and to their dismay, permanently intertwined. Eventually, to their surprise, they find they have each other.
How dark is that description? Last chapter of their lives. Are they sick? Are they dying? Ms. Tomlin is 74 and Ms. Fonda is 76, but putting a shelf life on them seems like an unnecessarily depressing way to brand this comedy.
Either way, the title should work well with Netflix's algorithm, as people's implausibly specific categories start to recommend "Comedies with famous women of a certain age" and "Shows that come up when you search for Will & Grace."