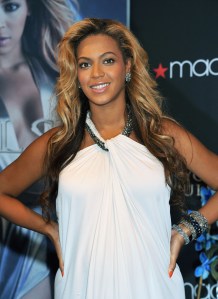 Have you ever been in the middle of a (Sasha) fierce Beyonce listening session and thought, "Wow, the only thing more intense than Queen B's sultry vocals is the volatility of the stock market," and wished you could have real-time market updates right at that moment? Or are you a stockbroker on Wall Street wishing you could Run the (financial) World while staring at Beyonce's face? Either way, your problems are now solved.
Meet Beyonce Trader, a website that provides stock information through a collection of Bey GIFs. The site, created by four NYU students, is easy to use: type any ticker symbol into a box in the upper-right hand corner of the page, and you'll receive the stock's current trading price and change, along with a GIF of Ms. Knowles reacting accordingly.
Has Facebook's stock price seen an uptick? Beyonce greets you with a warm smile and an a-okay. Is Apple having a bad day? The singer gasps in shock. Accidentally type in a ticker symbol that doesn't exist? Beyonce is surrounded by Justin Timberlake, Andy Samberg and Bobby Monyihan dancing and wearing skintight onesies in a bizarro SNL version of the "Single Ladies" music video.
The idea came to life at a late night hang-out during 
Tech@nyu
's annual retreat. "A bunch of us talked about 
drakeweather.com
 earlier in the day, mostly just bantering about how cool and funny it is," Terri Burns, one of the students who helped create the site, told the
Observer.
 "Around midnight we were hanging out, and Andrew [Bryk, another student] and I were like, 'this Drake Weather thing is cool. Let's build something cool too. What do people like? Beyonce. What do people check a lot? Stocks.' And the idea was born!"
Ms. Burns and Mr. Bryk are relatively inexperienced coders, so they enlisted two other students, Cheryl Wu and Abhi Agarwal, to help design the site.
Beyonce Trader is the latest in a string of new websites that feature celebrities updating us on mundane daily news. Besides Drake Weather, which superimposes Drake's profile from his Nothing Was The Same album cover over storm clouds and sunny skies, there's Doge Weather, which updates us with phrases like "much brrr" and "such icy."
But Beyonce Trader is the only one of these websites that features Beyonce.