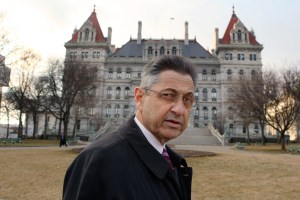 As Mayor Bill de Blasio and other supporters of the mayor's plan to tax rich New York City residents to fund universal pre-K rally in Albany today, assembly members across the five boroughs have almost completely unified around the proposal.
More than 55 assembly members signed a letter yesterday backing Mr. de Blasio's tax and urging Assembly Speaker Sheldon Silver to hold firm in legislative negotiations on the tax-the-rich component of the plan.
The New York Post, which first reported the letter's existence this morning, attributed the push to union pressure. "The labor leaders were being poignant about their support. It was a very safe position to support the mayor's legislation," an anonymous lawmaker told the paper.
Gov. Andrew Cuomo and Republicans in the State Senate, however, have panned the proposal, with Mr. Cuomo proposing an alternative funding stream separate from the tax to pay for pre-K across the state. But the assembly boosters of Mr. de Blasio's effort argue Mr. Cuomo's funding is insufficient–echoing the mayor's own messaging.
"The proposal in the executive's budget that would allocate state funding to increase universal pre-K is not adequate. The amount currently being discussed is not enough to  meet statewide needs," they wrote in the letter, which was signed by almost every Democrat in the city.
View the letter below:
[scribd id=210545624 key=key-1d7b2840qim168vp4kx9 mode=scroll]