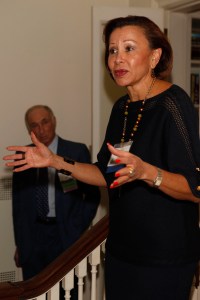 Two years ago, Congresswoman Nydia Velázquez fended off a furious challenge backed by then-Brooklyn Democratic boss Vito Lopez. 
This year, at least so far, her path to re-election appears to be clearer. But one challenger has emerged and another, former Comptroller John Liu, may be eying the seat.
Speaking at a New Kings Democrats endorsement meeting in Williamsburg yesterday, Ms. Velázquez was not rattled. 
"This is America. Anyone has a right to run, okay," she told the Observer. "America, hey, you want to run? I know that I am running."
Asked specifically about her thoughts on Mr. Liu's potential candidacy, Ms. Velázquez shook her head and laughed. "No comment, no comment," she said, walking away.
Ms. Velázquez is already facing  a challenge from political neophyte Jeff Kurzon, an attorney looking to tar the longtime lawmaker for her closeness to the banking industry. (Ms. Velázquez serves on the financial services committee.)
But Mr. Kurzon faces a sharply uphill battle for the district, which spans heavily Hispanic and Asian portions of Manhattan and Brooklyn. If Mr. Liu does take the plunge, his odds of beating Ms. Velázquez, a congresswoman for two decades, could be greater thanks to his support within the district's Asian communities. But observers say the chances of Mr. Liu actually running are remote.
Ms. Velázquez appears to be taking little for granted. She made a lengthy pitch at the reform Democratic club's meeting last night, refuting attacks from Mr. Kurzon that she cannot be trusted by progressives because she accepted contributions from investment banks like Goldman Sachs. To boost her liberal cred, Councilman Antonio Reynoso told the group she had been instrumental in locking down votes to elect Melissa Mark-Viverito, a progressive favorite, the speaker of the City Council.
"There is someone that is running and he's going to say that as a member of the financial services committee that I am taking contributions from banks and that I should not be taking contributions from the banks," Ms. Velázquez told the club. "Which of the members of Congress do not get contributions? I represent the financial capital of the world and how many employers, employees work with any particular bank? … The Koch brothers can write a check for $200 million dollars, and that is okay. I cannot take a thousand dollars, or five thousand dollars here or there?"
She quickly assured the group that, regardless of her donors, she had their best interests at heart.
"The issue is how you vote," she continued, citing a report that rated her one of the most independent members of Congress. "I am someone who will vote with my conscience and with my district. You can bet on it."