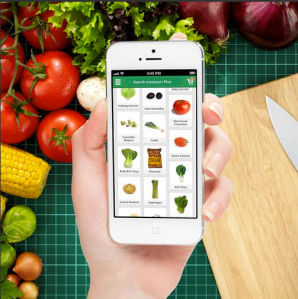 Grocery shopping in New York City: it's truly the stuff of nightmares. From never-ending checkout lines that wind through the cramped aisles, to the pain of negotiating your near-bursting bags down the subway steps, sometimes we just want to call it a day and order Seamless for the rest of our lives.
But wait! An app called Instacart, originally from San Francisco, is launching today in New York City. Instacart (CART) lets you order food from your fave local grocery stores, and then select your desired delivery window, which could be as soon as the next hour — we can't even manage to fight our way into the Union Square Trader Joe's in that amount of time.
"Looking at the current delivery space, no one was doing it right," Aditya Shah, Instacart's head of expansion, told Betabeat. "There were a lot of options, but nothing that offered the convenience of having something delivered to you within one hour. [They] forced you to have a really high minimum for your order, or you had to order really early in the morning to get it in the same day, or you got the produce from a warehouse and you didn't know what the quality was going to be."
To be fair, there are other one-hour grocery delivery services in New York, but as far as we could tell, they don't seem to let you choose which stores all your products come from, and they lack Instacart's reassuring personal touch.
You see, when you place an order with Instacart, it gets sent to the smartphone of one of the company's highly skilled personal shoppers, who have been rigorously trained to pick out the best items for you.
"We train them on how to pick produce – how to pick the best strawberries, how to make sure the eggs are not cracked, how to pick the milk with the latest expiry date," Mr. Shah explained. "Each of our shoppers is totally trained on that and tested on that. Our goal is to have these personal shoppers pick produce and fresh goods and well as you would."
The personal shoppers then walk, bike or drive your order to your desired location.
Currently, Instacart is only taking orders for Whole Foods, and is only delivering below 34th Street, excluding the Financial District. Mr. Shah said they'll be expanding their store options and delivery areas in the coming weeks.
Never ones to pass up on an opportunity for midday snacking, I agreed to try out Instacart yesterday afternoon (the company made an exception for me, and delivered to the Observer's Hell's Kitchen abode).
Using the app to scroll through Whole Foods' inventory, I selected some fancy-looking Tuscan-herbed nut mix, a box of veggie chips and — to test these supposedly expert personal shoppers — an apple and a banana. Instacart gave us free two-hour delivery, which usually costs an added $3.99. One-hour delivery usually costs an added $14.99.
Shortly after placing my order, I got a friendly phone call from my personal shopper! Whole Foods was out of the fancy nut mix and the veggie chips — would I be okay if he swapped them for other, similar products? Sure, I said. I also had to ask him: "How the heck do you guys get the shopping and deliveries done in such a short window?"
"They just give me the order, and I make it happen," he said mysteriously, before hanging up.
Around 1:10 — well within the two-hour delivery window — my personal shopper showed up with my order, which was packed inside a cute Instacart tote bag, which I got to keep. He was really nice and shook my hand — Instacart's personal element is definitely really refreshing, compared to other grocery delivery that just plunk a cardboard box down outside your door.
I was a little annoyed that two of my items had to be swapped, but I trust that was Whole Foods' problem, and not Instacart's. The app can't control what the grocery store has and doesn't have in stock — though admittedly, it would be useful if the app could somehow know, even before you order, which items a store is running low on. Still, I was happy with the replacement items my personal shopper selected for me.
The moment of truth came when I examined the banana. Much to my delight, it was perfectly yellow with just a tinge of green — just how I like them, though that was probably a coincidence — and not a bruise in sight. I'd call that a success.