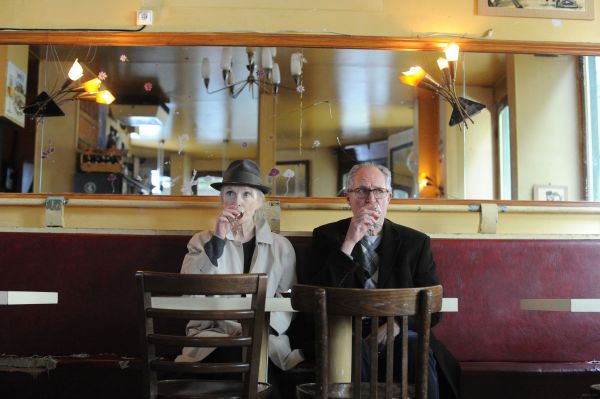 Even senior citizens, if they've done any living at all, know the meaning of love on the rocks. In the British film Le Week-End, a tender, insightful, sometimes very funny and astutely observed riff, the miraculous team of Jim Broadbent and Lindsay Duncan play a couple from Birmingham whose marital ship is sailing without an anchor after 30 years. They are two intelligent, sophisticated people searching for the spicy condiment they need to keep their relationship fresh during a bittersweet weekend in Paris, and, like the film that frames them, they are smart, substantial and enchanting.
---

Le Week-End ★★★★
(4/4 stars)

Written by: Hanif Kureishi
Directed by: Roger Michell
Starring: Jeff Goldblum, Jim Broadbent and Lindsay Duncan
Running time: 93 min.

---
From their previous collaborations, we know director Roger Michell and screenwriter Hanif Kureishi are no strangers to the various aspects of growing older. In The Mother, Anne Reid gave a spotless performance as a grandmother who embarked on a love affair with a man half her age (Daniel Craig). In Venus, Peter O'Toole explored the fresh experience of loving a younger woman before he died. But in Le Week-End, the lovers are more suitably matched, and the emotional ups and downs are more balanced and real, due in no small measure to the perfection of the two priceless stars. Nick (Mr. Broadbent) is a lecturer who has lost his edge; his wife, Meg (Ms. Duncan), is a teacher who has sadly watched him go to seed without providing much ballast.
Clearly aware that their longtime relationship is going adrift, they decide to spend their 30th anniversary in the same hotel where they once spent a romantic honeymoon. Everything goes wrong in the City of Light. The old hotel where they met after Cambridge is now a dump, so they recklessly throw caution to the wind and transfer to a plush hotel they can't afford, handing over their credit card for a lavish suite with a terrace view of the Eiffel Tower. But everything has changed.
An expensive meal drowning in butter is an invitation for acid reflux. Climbing the steps to the tourist sights is now a challenge to Nick's knees ("The last time we did this we could still breathe"). To Meg, making love is "like being arrested." He makes an awkward attempt to touch her and she snipes, "What for?" In bed, they talk about the fear of Alzheimer's and stomach cancer, subjects hardly conducive to the seductive lure of a romantic getaway. Willful and brittle, she wants to learn Italian, reshape her body and dance the tango. A mass of neuroses about money, their indifferent grown children and job security, he wants sex and adventure but doesn't know how to find it. While he ends up sharing a joint with a boy the age of his grandson, she goes off to a bar with a handsome French writer, desperate for a stimulating conversation in fluent French.
Like most things that lose spontaneity over a protracted period of time, this marriage is peppered with genuine affection, resentment, disappointment and familiarity. Like an aperitif after a torpid meal, things pick up when they accidentally run into an old university friend and former student (played with colorful relish by Jeff Goldblum), now a best-selling author who has reinvented himself with a new life in Paris, a beautiful second wife, a baby on the way and a forthcoming book. Slowly, a light sifts through the gloom, and they begin to see through their thorny issues and find solace in the shared values they've taken for granted for so many years. One great scene in particular, without dialogue, says more than an archive of screenplays, as they gather in a bar, sip wine, feed a coin to the jukebox and dance with growing abandon to a hedonistic beat in a cinematic homage to Jean-Luc Godard's Bande à part.
So much idiosyncrasy requires the delicacy only a pair of seasoned pros can bring to the table, and although Paris offers a splendid backdrop for sorting out differences and facing problems, it's the two stars who embellish the moment-to-moment issues in Le Week-End with rapture. Jim Broadbent's unkempt looks and frustrated self-doubt are a perfect counterpart to Lindsay Duncan's cool, patrician beauty and exasperating take-charge demeanor. They work through their agendas in the direction of a happy compromise with a bracing surfeit of energy and a surprising lack of sentimentality that keep you transfixed. They are unforgettable, and so is the movie.