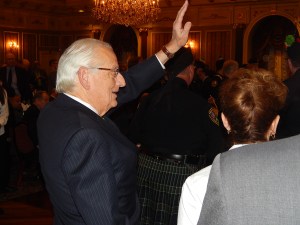 U.S. Rep. Bill Pascrell (D-9) today announced an agreement allowing for the replacement of Moonachie Borough Hall, more than 16 months after the building was destroyed by Hurricane Sandy.
The Federal Emergency Management Agency (FEMA) and the Borough of Moonachie reached an agreement on a replacement cost of $2.1 million for the municipal building that also serves as the police headquarters – significantly higher than FEMA's original estimate of $68,000, Pascrell said.
"More than 16 months after Sandy's devastation, this agreement is a significant step towards making Moonachie whole again," the congressman said. "Although Governor Christie continues to blame the federal government for his Administration's botched handling of federal funding, here is a clear example of the federal government and the local community working together to make the rebuilding process work. I'll continue to fight alongside Mayor Vaccaro to ensure Moonachie has the resources needed to elevate the structure and mitigate the threat of future flooding."
The agreement will make $2.1 million available for the Borough Hall project, including the demolition of the current building, the temporary relocation of borough offices, and the design and construction of a new Borough Hall. The federal funding must still undergo FEMA review before being obligated. Moonachie will also have the opportunity to appeal for additional FEMA funding, which will allow the new building to be elevated in order to mitigate against future flood damage.
"While our community faced significant hardships since Sandy's devastation, today's announcement brings us one step further down the road to recovery," said Mayor Dennis Vaccaro. "Construction of a new Borough Hall will strengthen our municipal operations and ensure that our brave first responders have the resources they need to continue keeping our community safe. I thank Congressman Pascrell for his leadership and persistence in helping to make this agreement possible, and I look forward to continuing to work with him to secure the additional funds needed to make Borough Hall stronger and better prepared for future disasters."
The final amount provided to Moonachie will be a 90% federal cost share of the amount not covered by insurance, which is still being calculated. The National Flood Insurance Program (NFIP) will contribute $500,000 to the project. Pascrell cosponsored a bill, which recently passed in the Senate, that would restore solvency to the NFIP and address the unintended increases in many premiums mandated under the 2012 Biggert-Waters Flood Insurance Reform law.