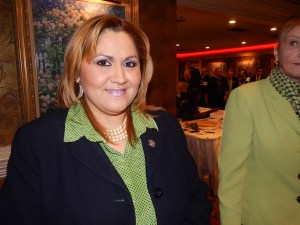 The only woman running for a council seat in the City of Paterson's at-large council contest, Maritza Davila yesterday notched an early win when she scored the 1B position on the May 13th ballot.
Assistant director of admissions for Passaic County Community College, Davila is pursuing one of three seats in an eight-person contest.
Incumbent Councilmen Ken Morris, Jr. and Ken McDaniel are pursuing re-election to their respective at-large seats, while embattled Councilman Rigo Rodriguez is not, leaving his seat open for a new face on the city council this year.
Under indictment for ballot fraud, Rodriguez is running for mayor.
A longtime ally of U.S. Rep. Bill Pascrell's (D-9) who volunteered for Pascrell's 2012 Democratic Primary win, Davila has the support of the governing body's only woman, Councilwoman Ruby Cotton and Councilman Mohammad Akhtaruzzaman.
She plans a lot of retail politics between now and May 13th.
"This campaign will be won by knocking on doors," said the single mother of a 14-year old son.
Plagued by crime, the city is not helped by a city government beset by infighting, the candidate said.
"Everyone's fighting with everyone," she said. "The city council is fighting with the administration, and egos are getting in the way. I'm going to run a clean, positive campaign. I'm going to do my best to stay positive."
Born and raised in Paterson and a graduate of Eastside High School, Davila appeared in the 1989 Hollywood dramatization of real life principal Joe Clark Lean on Me.
She can be glimpsed to the left of Morgan Freeman in this famous scene from the film.