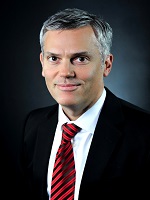 Art and architecture book publisher Phaidon Press has named Keith Fox CEO. He was most recently the president of the construction division at McGraw Hill Financial, which publishes Architectural Record and GreenSource Magazine among other publications. He has previously served as the president of McGraw Hill Professional and BusinessWeek.
Phaidon, which was purchased in 2012 by Leon Black–a prominent art collector and chairman of the private equity firm Apollo Global Management–and his wife Debra, currently has over 1,500 titles in print, according to its website. In a statement, Mr. Black said, "We are delighted that Keith has joined Phaidon. He brings a unique combination of his personal appreciation of the arts coupled with a proven history of leading and advancing successful global brands."
Mr. Fox will be based out of the company's New York office.