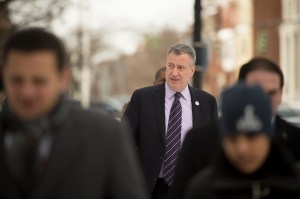 Only 39 percent of registered voters in the city approve of Mayor Bill de Blasio's job performance, according to a new Wall Street Journal-NBC 4 New York-Marist poll.
While many believe the mayor cares about average person, is fulfilling his campaign promises, and can bring the city together, two months into his tenure, just 10 percent of those polled described his performance as excellent, while 29 percent described it as good. Another 37 percent gave it a fair rating and 20 percent said he is doing poorly.
That's worse than former Mayor Michael Bloomberg's ratings this time 12 years ago, when 50 percent of those polled approved of the mayor's performance, according to the Journal. Only 6 percent said Mr. Bloomberg was doing a poor job then.
"He still (has) a lot to do to convince people that he's on top of the managing of the city and literally making positive changes—that's not coming through yet to people," pollster Lee Miringoff told the paper, explaining that the still-lagging economy could be to blame for some of the frustration.
The poll also showed a significant racial gap, with 50 percent of black voters and 45 percent of Latino voters saying they approve of Mr. de Blasio's performance, versus 30 percent of whites. Mr. de Blasio also polled better in the Bronx and Brooklyn than in Manhattan–a general reversal from the previous mayor.
For more results, click here.
Update (6:55 p.m.): The mayor office responded with a statement stressing the mayor's favorability rating. "Mayor de Blasio has focused the first 60 days of his Administration on building, running and changing the direction of the government, and with a 59 percent favorability rating, the majority of New Yorkers approve of the direction he's taking the city," a spokesperson said.