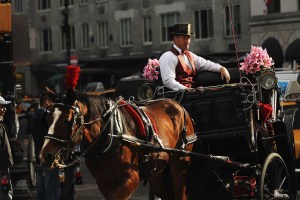 New York voters are overwhelmingly opposed to Mayor Bill de Blasio's plan to ban horse-drawn carriages, according to a new poll out today.
The Quinnipiac survey found that 64 percent of those polled want to see the horses stay, versus 24 percent who want to ban them.
"On an issue that has generated an immense amount of interest – with celebrities speaking loudly on both sides – voters reject almost 3-1 Mayor de Blasio's opposition to horse-drawn carriages," pollster Maurice Carroll said in a statement.
When it comes to education, the poll also found that voters here prefer Gov. Andrew Cuomo's plan to pay for universal pre-K using existing state money, over Mr. de Blasio's plan to raise taxes on the highest income earners, despite months of lobbying and demonstrations by the mayor and his allies.
More than half–54 percent–back Mr. Cuomo's promise, versus 35 percent who support the tax.
"Just about everybody favors Mayor Bill de Blasio's call for universal pre-kindergarten instruction, but most New Yorkers prefer Gov. Andrew Cuomo's plan to do it without a new tax," Mr. Carroll said.
Mr. de Blasio in the past has criticized Quinnipiac's question on the subject, saying the phrasing was the equivalent of asking, "'Would you like a bowl of free candy?' To which most people would say, 'Yes.'"
The mayor also gets poor scores for his handling of public schools in general, with 49 percent saying they disapprove of the job he is doing, versus 38 percent who approve. Even more–55 percent–of pubic school parents disapprove. His School Chancellor Carmen Farina is also off to a rough start, with 36 percent disapproving of the job she's doing. Public school parents are even more frustrated, with 45 percent saying they disapprove.
The first two months of Mr. de Blasio's term were filled with constant snowstorms and complaints about his decision not to cancel schools.
The poll of 1,234 people, which was conducted From March 12 to 17, has a margin of error of plus or minus 2.8 percentage points.
View the full results below: