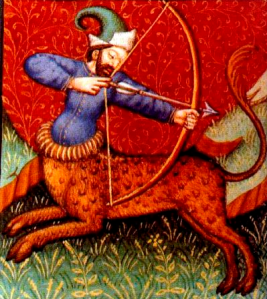 We don't put much stock in astrology, but a study by amateur porn site Homegrown Video (link NSFW) suggests your zodiac sign might determine whether you're into making your own pornos.
"Statistics collected by Homegrown Video over a six-month period found people with the astrological sign of Sagittarius, or those born from November 22 to December 21, are most likely to produce and submit a sex tape for public consumption than those of other astrological signs," the company's press release says.
According to Homegrown Video's data, which was collected between Sept. 1, 2013 and Feb. 1, 2014, Sagittarians make up 12.53 percent of the people who submitted amateur videos to their site. Geminis came in second, at 11.57 percent, followed by Libras, at 10.36 percent.
Hardly any Capricorns were into filming themselves getting frisky — they only made up 3.86 percent of submissions.
"We're surprised to find those born under certain astrological symbols were more likely to submit sex tapes than other people under other zodiac signs," Homegrown Video owner Farrell Timlake said in the release. "We're not advocating belief in astrology, nor encouraging any other such belief, but it is interesting to see certain people are more likely than others to record themselves having sex for others to see."
In case you were curious, here is how the highly credible Universal Psychic Guild website describes Sagittarians:
"Ruled by the benefic planet Jupiter, Sagittarians possess a natural exuberance, sense of adventure and love of life that makes them one of the most optimistic zodiac signs of all. Like their astrological symbol – the Archer – Sagittarians are renowned for aiming their sights towards whatever it is they find alluring – a love partner, dream job, vacation (Editor's note: OR MAKING PORN) – and making it their own. They believe that anything is possible – and because of this belief system, Sagittarians are adept at seeking out their very own pot of gold at the end of the rainbow."
At this point, we have no choice but to assume that Sagittarians in Alabama are basically making porn all day.