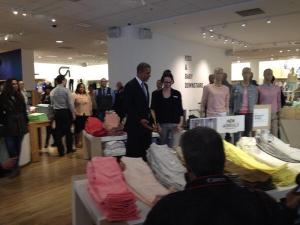 President Barack Obama, in town for a pair of big-money fund-raisers, made a stop this afternoon at the Gap for a symbolic shopping session.
At just after 4 p.m, the president's motorcade pulled up to the chain's East 42nd Street location so he could do a little shopping for his wife and daughters, according to a White House pool report.
Mr. Obama's decision was inspired by the Gap Inc.'s decision to increase its wages for American employees, a White House official said.
According to the report, the president told a a sales associate that he was shopping for his wife, Michelle, and daughters Sasha and Malia. The employee gave him a quick tour of the new arrivals and then "delved into sweaters in a rainbow of colors, holding up each choice and assessing what his daughters might like."
"The employee recommended a V-neck sweater, but the president gravitated toward the slightly more modest round-neck options, saying, 'I'm worried the V-neck is going to slip,'" the pool report noted.
Eventually, the report said, he settled on gray and white striped and bright coral options and then picked out a blue workout jacket for his wife after turning down a hoodie, which he said the first lady rarely wears.
Pool reporter Phil Mattingly of Bloomberg Television posted a photo on Twitter of the president chatting with a saleswoman in front of a display of pastel-colored women's pants.
"I think the ladies will be impressed by my style sense," Mr. Obama said before he approached the register, according to the report.
The president reportedly declined to sign up for a Gap card–which would have earned him a discount–opting to pay by credit card instead. He later joked about being able to swipe his own card at the register's card reader. "Oh wow. So, you can sign the machine?" he said before assuring his gaggle of pool reporters that he was kidding. "They had these around the last time I shopped."
The president also praised the company for its decision to raise its employees' pay and said he would continue to push Congress to boost the minimum wage.
"It's not only good for them and their families, it's also good for the entire economy," he told them. "I want to congratulate the Gap for doing the right thing."
Mr. Obama is in town for a pair of fund-raisers tonight.