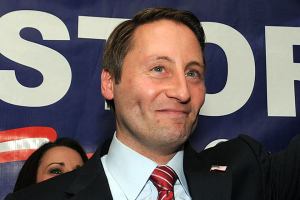 Not a second had elapsed after Rob Astorino announced his campaign for governor today before he was under criticism from pro-choice organizations and women's groups.
In fact, one group went on the attack moments before Mr. Astorino, a pro-life Republican, made his intentions official this morning.
"Rob Astorino might have a chance of becoming Governor if it were the 1950s," said Sonia Ossorio, President of the National Organization for Women's New York City branch. "He's a proponent of abstinence-only sex ed while simultaneously opposing birth control and cutting well baby care funding. In 2014, women are too smart to vote away our most basic rights on the biggest decisions in our lives."
Ms. Ossorio further reiterated her support for incumbent Democratic Gov. Andrew Cuomo, who has made reproductive rights a cornerstone of his policy agenda in Albany. 
"We're thrilled Mr. Astorino has thrown his hat into the race. Highlighting his extreme anti-woman positions and voting record will serve to draw a clear, sharp line in the sand for the women of New York," she added. "A Governor who has championed women's equality or an ultra right wing candidate who appears to understand little about women's everyday lives." 
Another group, NARAL Pro-Choice New York, preempted Mr. Astorino's announcement with a statement of its own.
"Rob Astorino is expected to announce today that he wants to be the next Governor of New York. Yet, he has shown flagrant disregard for the core values of the millions of pro-choice New Yorkers," NARAL New York's president, Andrea Miller, argued, according to Capital Tonight. "Astorino has at every turn demonstrated a profound lack of respect for women's fundamental rights and basic health care needs. Astorino has a long history of showing his hostility to women's health and rights."
"As Westchester County Executive, he repeatedly undermined women's and teens' access to reproductive health care and information. In the buildup to his gubernatorial campaign, he dismissed concerns about the erosion of women's reproductive rights and took every opportunity to fear monger about the highly popular and necessary Women's Equality Act, even calling its protections for pregnant women's health 'hideous.' Rob Astorino is bad for women and bad for New York. And NARAL Pro-Choice New York will make sure that New York voters understand the threat he poses to our most basic health and rights," continued Ms. Miller.
Mr. Astorino's campaign declined to comment, but attacks against the Republican for his socially conservative positions are nothing new; he faced similar barrages while campaigning in his successful county executive races. Mr. Astorino has repeatedly argued that abortion rights are set by federal law, not local or state legislation, and that his primary responsibility is to handle fiscal matters. 
Early attacks have also come from the Westchester County Democratic Party and the retail workers' union, whose president attacked Mr. Astorino for his cuts to social services.
"Rob Astorino has a clear record of contempt for working people," argued the president, Stuart Appelbaum, in a fiery statement of his own. "Voters will reject Astorino's alarming views on labor, economic and social issues."