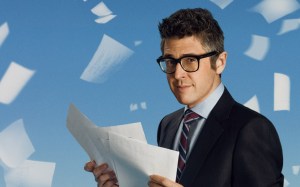 Now that Public Radio International says that they're dropping their distribution of America's most hipster-beloved show, This American Life, it's normal to feel a sense of loss. A sense of panic. You might wonder what it all means, and have the urge to cancel your Facebook Event for your friends to come support you at that Moth competition you've been prepping for; reading in your most emphatically soothing voice to the mirror about the time your Chinese grocer taught you a thing or two about identity. Why even bother? You might as well be dead if you're not going to be the next Sedaris.
We advise you to take a couple deep breaths. All is not lost!
TAL producer/creator/nerdcore sweetie Ira Glass will be taking his show elsewhere. Currently. Life is produced by WBEZ in Chicago, and has an audience of 2.2 million weekly.
"During our most recent negotiation, it became clear that our organizations' expectations regarding our futures were different, and therefore, we mutually agreed that beginning July 1, 2014, PRI will no longer distribute the program," read a statement put out by PRI, which makes us wonder what exactly was the reason for the falling out. (It definitely wasn't because the content was becoming too racy, right?)
Actually, no, what we're really interested in is the format This American Life will take next. It's already a podcast. It was a TV show. Maybe it could a 'zine produced by SiriusXM? Maybe Ira Glass will just tour the country with a tape recorder and a sound engineer, collecting oral histories and transcribing it in one giant Americana quilt that can fit in his Chelsea carriage house?
Or, most likely, it will just re-negotiate its SiriusXM contract.