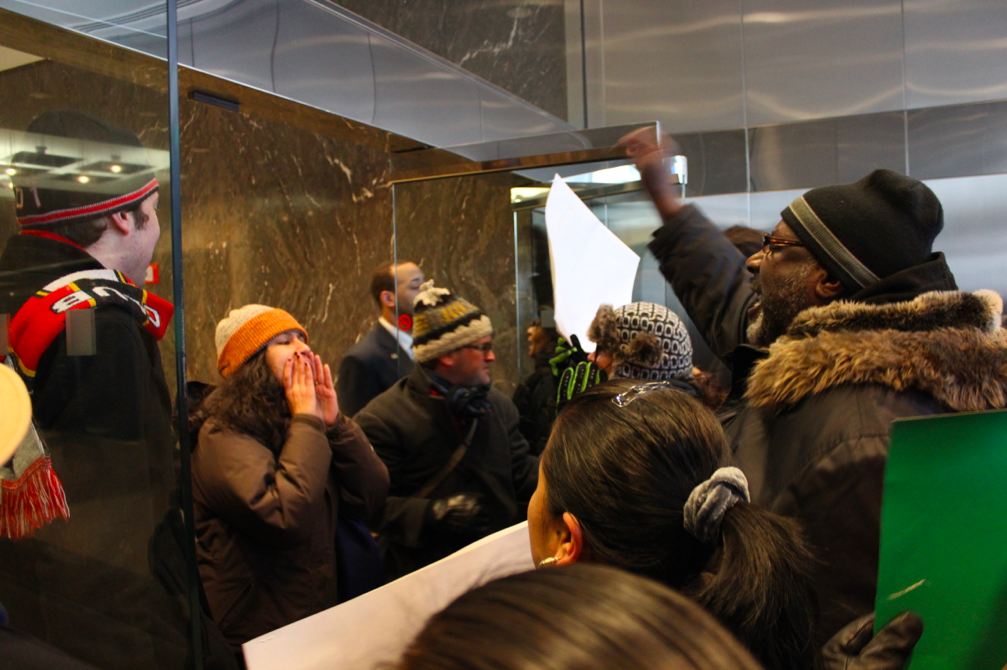 Step aside, "Status Cuomo." Hello, "Quid Pro Cuomo."
A small crowd of public school parents and advocates stormed the lobby of midtown building where Gov. Andrew Cuomo was believed to have a meeting this afternoon. Waving "Quid Pro Cuomo" posters, the two dozen or so protesters rallied against proposed budget language that would give the state government some jurisdiction over city schools.
The proposal, outlined by the State Senate's one-house budget resolution, would block Mayor Bill de Blasio's ability to stop charters from co-locating with traditional public schools. According to the protesters, Mr. Cuomo's own pro-charter budget push–which is separate from the senate's plan–is a power-grab, not in the interests of students, but rather in the interests of the wealthy charter school supporters who regularly make donations to Mr. Cuomo's office.
"When you look at Cuomo's donors and who are the largest donors, who are the people giving him huge sums of money, they're the one's he is listening to in Albany right now," Jonathan Westin, Executive Director for New York Communities for Change said. These donors, he added, are attempting to "jam through gubernatorial control of charter schools here in New York City and take that power away from the mayor."
"It's taking power away not just away from the Mayor and our kids, but it's also public school parents, who have no say in the matter," said Noah Gotbaum, a former City Council candidate whose child he said attends a co-located public school. "This gives veto rights to charters over what happens in our public school buildings. And our public school parens and the Mayor don't have the same power. That's ridiculous!"
"Why would a governor and State Senate come out and back 3 percent of the kids, who are in charters, and cast aside the 97 percent of the kids who are in public schools?" he added. "There's only one reason and it's money."
Reached for comment a Cuomo spokeswoman emphasized governor's longstanding support for the charter movement that she said had nothing to do with recent campaign activity. "The governor has been a consistent supporter of charter schools on the merits – from his campaign through his three years in office," said the spokeswoman, Dani Lever, in a statement.
Earlier this morning, the governor also created some daylight between his own advocacy and the State Senate's plan.
"Co-location, that's up to the mayor," he said on WNYC's The Brian Lehrer Show. "The Senate, I believe, may have different language. But I think that's up the mayor. I don't think we should leave it up to the mayors whether or not charter schools are allowed to operate and continue and grow. I think we should have a state policy on that."
"Charter schools, while only representing a minority of the students in terms of numbers, I think are very important for the system. I think they bring creativity, they bring innovation and they bring choice," Mr. Cuomo argued.
Additional reporting by Colin Campbell.