Increasingly, Brooklyn's reputation as a mecca for young creative types feels less like a stereotype than a cynical marketing gimmick. However well-honed the barista skills of an aspiring writer or painter might be, they are—in the absence of a supplementary trust fund—simply not enough to foot the rental bill in great swaths of the borough. Aided, no doubt, by real estate agents touting "cultural attractions" in "interesting" and "vibrant" neighborhoods, the reputation nonetheless persists—even in Dumbo, which has transformed in the last decade from an artist-inhabited warehouse district to one in which six-figure condo sales are run-of-the-mill. But perhaps the news is not all bad for creatives. They might just need to learn to be a bit more, well, practical. Take for example the case of Donna MacLetchie, a producer and co-founder of Jane Street Entertainment who has done work for HBO, and who recently picked up a place in DUMBO at 70 Washington Street for just north of $2 million, according to city records. The sellers, Scott and Paula Price, in true DIY fashion, listed the apartment themselves.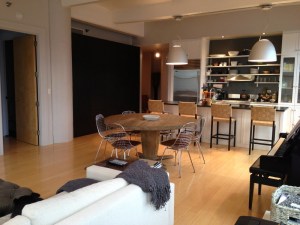 A building as emblematic as any of the neighborhood's metamorphoses, 70 Washington was converted to luxury lofts from its original industrial incarnation in 2005 by Jed and David Walentas' Two Trees—a company largely responsible for the local renaissance. Condos throughout are outfitted with sustainable bamboo floors and the structure's former configuration persists attractively in the form of vaulted, 12-foot ceilings. Ms. MacLetchie's new place, which she will share with her husband Edward Busk, boasts three bedrooms, 1,700 square-feet and an open kitchen complete with all the stainless steel brands you would expect to find in Soho and Tribeca—you know, those other neighborhoods that used to be called "interesting." They are also the sorts of appliances that go into "chef's" kitchens, which is fitting, given Ms. MacLetchie's roster of programming.
Jane Street does production for such culinary-themed hits as Rachael vs. Guy Kids Cook-Off, Chopped, 24-Hour Restaurant Battle and, our personal favorite: Deep Fried Masters. The company is also responsible for Queer Eye for the Straight Guy, the commissions for which, we suspect, did not hurt when Ms. MacLetchie and Mr. Busk were apartment hunting in newly-pricey DUMBO. So you see, kids, there's hope in Brooklyn for creative types, after all. And the secret to success isn't even all that surprising; in fact, it's the same as it ever was. All you have to do, of course, is sell out.