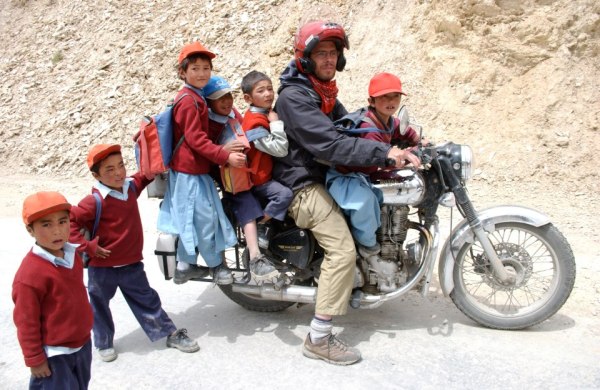 The news earlier this week that journalist Matthew Power died while on assignment in Uganda prompted an outpouring of grief from the media world.
Many fellow journalists felt a strong connection to Mr. Power, a skilled writer and reporter who not only had an enviable career writing in-depth articles from locations near and far, but was generous with career advice, contacts and encouragement.
Mr. Power was a contributing editor at Harper's Magazine and his work often appeared in publications including The New York Times, GQ, Men's Journal, Businessweek, Wired, Outside, Slate and The Atavist.
When he died, at the age of 39, most likely from heat stroke, he was reporting a story for Men's Journal about a British explorer's quest to walk the length of the Nile.
"Matt was only dropping in and walking with him for a week, but you got the sense that he'd trudge on as long as it took to get the story and to understand the man he was walking with," Men's Journal wrote on Tuesday.
Mr. Power's in-depth articles took him to far flung and exotic locales: the Pacific Island of New Britain; Costa Rica, to write about the murder of a sea turtle conservationist; Bamiyan, Afghanistan, for a story about the lost Buddhas and the legacy of the war; Pailin, Cambodia to cover a drug resistant malaria; and many, many other places.
He was adept at finding and bringing to life unlikely characters, such as modern-day hobos rafting down the Mississippi, a drone warrior and a variety of eccentric adventurers.
"For someone who often covered adrenalized subjects, he wrote with a patient and graceful cadence," said Abe Streep, his friend and editor at Outside magazine. "He wanted to live an adventurous life, and he did that through his reporting, but he didn't ever wish to put himself forward in the story itself."
Mr. Power won awards for his stories, and his work was included in numerous anthologies. He occupied a special place in the media world, always ready to get a drink with a journalist at the beginning of his or her career, make introductions and give advice.
"Matt would give you his contacts," Mr. Streep said. "He'd give you tips. He'd encourage you. He'd write you unsolicited fan letters about your work. He made it seem possible. He was relentlessly generous."
In 2007, Charles Homans, now executive editor at The Atavist, was working at a radio station in rural Alaska, trying to get a foothold in the magazine business by cold emailing writers and editors whose work he admired.
"Matt was the one who not only wrote back, but invited me out for a drink, and welcomed me into a world that I found hugely intimidating," Mr. Homans said. "He demystified it and made me feel like I belonged there. He'd give me his editors' email addresses and tell me to drop his name, even though he surely knew I had no idea what I was doing and would only be wasting their time."
Mr. Power took on a mentor-like role and helped many break into media.
"I can't think of a single conversation we had in which he didn't mention some young freelancer who needed help placing a story, or had one I should take a look at, or who he was going to bring to the bar that weekend, or whatever," Mr. Homans said. "I'm not exaggerating—I don't even know how many times I've found myself thinking, Come on, Matt Power would respond to this email. Matt would buy this person a drink. And it never seemed to occur to him to do otherwise."
There were accounts of rides into Manhattan on the back of Mr. Power's motorcycle and dinners at his house attended by a wide circle of people who knew him and wished that they had gotten to know him better.
"As a person who didn't know him well enough, he radiated kindness and generosity, and was completely unpretentious, which is really rare in these circles," said Atossa Araxia Abrahamian, a journalist who met Mr. Power while interning at Harper's.
As a former Harper's intern, Mr. Power was looked up to by generations of subsequent Harper's interns
"He was a real Harper's person, having been an intern, and he was completely unpretentious, so it was always a pleasure to talk to him,"John R. MacArthur, the president of Harper's, told the Observer. "An extremely nice guy, so we're feeling pretty bad here."
Mr. Power's career and attitude were cited as an inspiration by both other journalists and friends.
"Matt was someone who knew what he wanted out of life and just did it—he made it simple," Nick Jones, a playwright and Mr. Power's former roommate, wrote on Facebook. "He proved that living a dream is not a matter of luck but a choice."
And, many pointed out, he had a really good time doing it.
"He was maybe the only journalist I know who never seemed to forget that we have the most fun job in the world," Mr. Homans said. "It always seemed to me like he felt like he had gotten away with something by figuring out how to do what he did for a living, and he wanted as many other people as possible to get in on the racket, too."