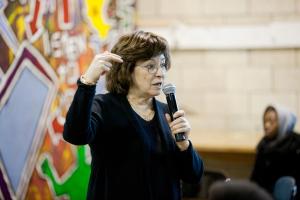 Assemblywoman Rhoda Jacobs, a Brooklyn lawmaker who was first elected in 1978, may not seek re-election, multiple sources familiar with Ms. Jacobs' plans told the Observer.
Ms. Jacobs has informed local politicos that she is unlikely to run again, though sources cautioned that Ms. Jacobs could still end up changing her mind as she has in past election cycles.
"She's done this before," a Democratic source told the Observer. "But this time it seems serious."
The Brooklyn Democratic Party is already hunting for replacements for Ms. Jacobs, sources say, but the party's backing won't guarantee victory in the Flatbush and Midwood seat.
Multiple candidates with deep ties to the district are expected to pile into the seat if it becomes open, with at least one ready to run regardless of whether Ms. Jacobs retires. Rodneyse Bichotte, a Democratic district leader, ran against Ms. Jacobs in 2012 and will hold a fund-raiser tonight with Public Advocate Tish James and Councilwoman Laurie Cumbo. L. Rickie Tulloch, a former City Council candidate, and Michele Adolphe, are said to be eying the seat as well.
Ms. Jacobs, who is white, has repeatedly defied demographic trends to win re-election in the district, which is now 63 percent African-American, according to U.S. Census numbers, with a large Caribbean-American community.
Ms. Jacobs did not respond to repeated requests for comment yesterday.