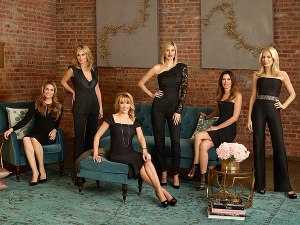 Settling in with a steaming hot cup of The Real Housewives of New York  after an uncharacteristically long hiatus is like slipping into a warm bath with a single cockroach swimming the backstroke at the other end of the tub. It's like coming home after a long trip and finding an intruder in the bedroom closet. It's like wearing sandals in New York for the first time in months and having a rat run over your toes on the subway platform. The dysfunction and borderline personality disorders are unchanged, and everyone is still fighting about the same stuff. Time is a flat circle.

To ease us in, we're given brief updates on the various housewives. Carole Radziwill is still plugging her book, posing for author photos, wearing leather jackets and making pop culture references from 2005. It's an unfortunate reminder of one of the fundamental weaknesses of the franchise: the assumption that viewers are at all interested in the various bogus business ventures of each of the Housewives. We should only be forced to watch that stuff if it results in lizard-brain food like Vanderpump Rules. Thankfully, there is no mention of toaster ovens.
Speaking of toaster ovens, Sonja Morgan is still locked inside her Upper East Side townhouse performing her blowsy blonde standup routine to the camera, Ramona Singer, or, one suspects, no one at all. Ramona has vowed this season to try to be more "edited" in what she says, but the use of the phrase "turtle time" in her credits tagline suggests she will fail.
At Heather Thomson's birthday, which provides the cast the opportunity to gather in the same room and glower at one another, the most likable New York housewife continues to make us work hard to do it by referring to her former coworkers as her "industry peeps." Sonja has brought a much younger man as her date, who everyone seems to think might also be one of her various interns/servants. He tells Carole he is 23. He eyes a tall, leggy blonde and Sonja looks over at them appraisingly and also murderously.
As it turns out, that the tall, leggy blonde is the newest addition to the franchise.
"Everybody thinks I'm from California because I have blond hair," Kristen Taekman says by way of an introduction, but would you believe she's actually from Connecticut? The hits keep coming from there: she has two children named Cash and Kingsley. She's married to Josh Taekman, a former coworker of Heather's who has since struck out for greener (or at least EBOOST-ier) pastures. Kristen tells Josh they can't have sex until he gets a vasectomy, tells the camera they've been married for eight years — "fingers crossed that we make it to nine" — and then offers that it's a "running joke" between herself and her husband that she's kind of dumb.
(Later, she will meet her husband for a date. He will be late, and she will yell at him for not respecting her time. He will apologize. They will reminisce about life before children, pronouncing it "fabulous." He will give her a pair of earrings, she will compliment his ability to listen, and they will have deeply self-conscious, rapid fire repartee about oral sex. This will all happen before they finish their first drinks, and it will be equal parts exhausting and terrifying.)
At Heather's  party we are also treated to a trademark Real Housewives tableau, one that will make you call the craziest person in your life and thank them (or berate them, if it turns out that you are the crazy one) for not being as insane as everyone on this show. It's a scene that happens across franchises and seasons, but remains as incredible the twentieth time you see it as the first. It's the scene in which one Housewife approaches another, in the spirit of friendship or at least hoping to be able to film together more often, to make peace. Meanwhile, the other Housewife positively vibrates with delight at the opportunity to reject them. I was able to charge my phone using the dark energy generated from this exchange:
Ramona, to the camera: "You're lucky I'm not stabbing [Aviva Drescher] with a knife."
Aviva, to Ramona: "You've got a couple years on me, not many, but a couple…and if you could show me the way [to forgiveness? Friendship? Unclear], I'd be grateful."
Ramona, to Aviva: "Accepting an apology is one thing, but can I accept you as a person?"
Aviva: "I think that we can celebrate our differences."
Ramona: "You're not listening to me! [Yelling] Who is the real Aviva? Show me the real Aviva!"
It's early in the season, so Bravo mercifully cuts away. We don't want to wear ourselves out.
The rest of the episode continues to set up Ramona and Aviva as major antagonists for the season, with a side of Sonja explaining to us that she resents how much she loves the new dog she got after hers died. Sonja hosts a tea, staffed by her intern-servants, where Kristen gets a big taste of the screaming, interrupting and forceful pronouncements that characterize a typical conversation with Ramona and Sonja. Ramona insists that Aviva has severe anxiety stemming from the loss of her leg and her mother's death from alcoholism (was this ever confirmed?), which Ramona blames on being married to "that nightmare father of hers" (every monster watching at home, in unison: "HIS NAME IS GEORGE!!!"). When Sonja dares to suggest that Ramona could try to mend fences with Aviva, Ramona starts yelling at her specifically instead of the general yelling she was doing before.
"I rise above it," Sonja says eventually. "The chips are down and I'm just going to rise above it."
"Is not our character revealed when the chips are down?" asks a random blonde woman, who is wearing a fedora indoors.
"Thank you," Sonja says to her.
And what do you know — the episode ends with Aviva and Ramona meeting for a drink, where Ramona is simultaneously flattered by Aviva trying so hard to get back into her good graces and (rightly) afraid of how irresistible she finds Aviva when she turns on the charm.
"You're very chriss-matic," Ramona says to her, suspiciously, before agreeing to start anew. Aviva has won this round, but we're only one hour in to what promises to be a weekly dose of complete insanity. I can't wait.