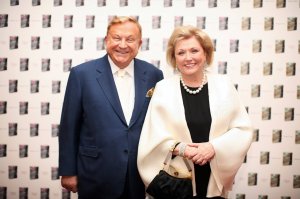 Having sold their place at River House in December for a paltry $10 million—about $9 million less than they would have liked—the wildly successful British novelist and minor noble Barbara Taylor Bradford and her movie-making husband Robert were rumored to be shopping for something a touch less opulent. (Uma Thurman was the lucky buyer of their much-discounted apartment.) But their tastes had not, of course,  become so modest as to preclude them from focusing their hunt on Manhattan's ritziest boulevard. And the 1929 co-op building at 975 Park Avenue, where the couple has just purchased a three-bedroom corner unit for $4.9 million, shares some of their former home's old-world fussiness.
The words "classic," "prewar" and "baronial" all appear in the listing, held at Corcoran by Stephen Perlo and Marcia Kapp, which gives some hint as to the taste profile of likely buyers. And interior photos depicting Louis XVI chairs upholstered in floral motifs, gilded picture frames and heavy drapery don't hurt, either. Indeed, Marilyn Black, the seller, seems to have shared the Bradfords' River House decorator, and her old place offers the couple no shortage of more permanent attractive features besides.
Park Avenue views to the north and west, a gas fireplace (for who among us wants to lug kindling to the 11th floor?), a gracious living room and a formal dining room combine to lend the space a regal air—a mood that a couple of staff rooms do nothing to detract from. One of the bedrooms is currently configured as a library, which makes a fitting addition to the spread. We would suggest, however, skipping the flat screen television that Ms. Black affixed to one wall. TV in the library? It just isn't done.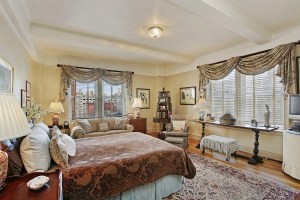 Then again, Ms. Bradford's books have inspired a variety of films and miniseries, including Everything to Gain, A Secret Affair and Love in Another Town. But perhaps, more so than these, 1998's Her Own Rules hews closest in its title to the author's personal credo. If so, she can of course do with the library just what she pleases. Perhaps she will even use its wooden shelves to store her collection of Hermes handbags? She has 24 of them after all, and good leather simply must be allowed to breathe.