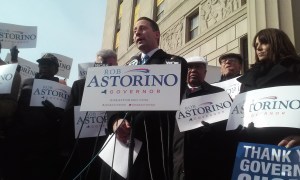 "So what brings you guys out today?"
Rob Astorino kicked off his uphill gubernatorial campaign against incumbent Andrew Cuomo today with a joking question to those assembled for his formal launch on the steps of the Bronx County Courthouse. 
"I am Rob Astorino, the Westchester County executive, and today we kick off our campaign for governor in the state of New York," said Mr. Astorino, a Republican running in a heavily Democratic state.
The candidate vowed to return many times to campaign in the heavily Democratic borough, even as he faces long odds against Mr. Cuomo, who possesses a gigantic fund-raising operation and strong re-election numbers in recent public polls. Democrats and Republicans have both nevertheless praised Mr. Astorino's retail politics skills and ability to stay on message, perhaps lessening the Cuomo advantage.
"I'm going to ask people–not just going to ask people as they come out of Yankee Stadium during the summer, or as they come out of their apartments here, or off their campuses off Fordham … — the same question: Are we winning or are we losing as a state?" Mr. Astorino asked the crowd. "If we're winning, just re-elect Andrew Cuomo. But if we are losing–and I believe strongly that we are losing as a state–then we are gonna have to make a u-turn."
Mr. Astorino's diverse array of supporters politely clapped as the county executive went through his stump speech, which finished with Mr. Astorino making remarks in Spanish in the brisk cold air.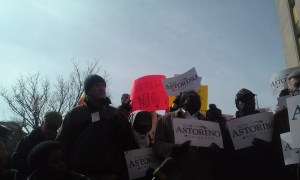 But not everyone gathered was there to show support. Also present were protesters from NARAL Pro-Choice New York, New Yorkers Against Gun Violence and other groups, who held up signs highlighting Mr. Astorino's conservative positions on gay marriage, abortion and gun control. At one point a protester with a blue "Thank You Governor Cuomo" sign tussled with Astorino supporters for a spot in front of the cameras.
Asked about the counter-rally after his speech, Mr. Astorino tried to focus on "the big issues" instead if his socially conservative positions.
"I've had a very good relationship with our LGBT community in Westchester. I have a good relationship with everybody, whether we agree personally or not," he said. "I don't see neighbors or anyone walking on the street,as a Democrat or a Republican or anything else. I see them as a New Yorker and they want the same things I want …. We can disagree on things–and that's fine, we will–but on the big issues, who doesn't want a good job?"
He quickly pivoted to his primary pitch: "If we look at how things have been going recently, in the last four years, or even longer, this state clearly has been on the wrong path. We've got to change course. Just like we did in Westchester."
Mr. Astorino also explained is decision to launch his campaign in the Bronx by comparing himself to President Ronald Reagan, who visited the South Bronx in 1980 as he campaigned against then-incumbent Jimmy Carter.
"Why not the Bronx?" he asked reporters. "The Bronx is the most diverse county in all of New York. It is also one of the most economically challenged counties in all of America. And just like Ronald Reagan did, I think in 1980, he came to the South Bronx, he said, 'I may not get a lot of votes here. But I will represent everybody.'"