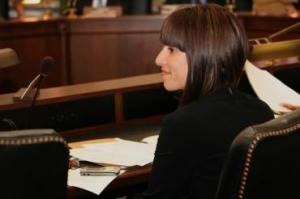 NEWARK – State Senator Teresa Ruiz (D-29) and state Assemblywoman Eliana Pintor-Marin (D-29) will endorse Newark mayoral candidate Shavar Jeffries at a North Ward rally tomorrow, according to the Jeffries campaign.
The endorsement event, which will be held at the El Flamboyan Manor on Verona Avenue in Newark's North Ward on Saturday, is part of the Jeffries campaign's attempt to consolidate support in Newark's North and East Wards going into the May municipal election.
The two endorsing politicians represent two critical voting blocs needed by Jeffries, the former state Assistant Attorney General, in his campaign to defeat his main rival in the Newark mayoral race, South Ward Councilman Ras Baraka.
Ruiz, who has served in the state Senate since 2008, is of Puerto Rican descent and grew up in the North Ward. Pintor-Marin, who has served in the Assembly since 2013, is of Portuguese descent and grew up in the East Ward.
A lot is potentially riding on the outcome of the 2014 Newark mayoral election for Ruiz and Pintor-Marin.
Ruiz has been strongly supported throughout her political career by North Ward Democratic power broker Steve Adubato Sr. and Essex County Executive Joe DiVincenzo. While DiVincenzo has declined to endorse any Newark mayoral candidate, he is reportedly behind Jeffries.
Pintor-Marin's main political benefactor, East Ward Democratic power broker Joe Parlavecchio, has been a highly visible supporter of Jeffries.
If Baraka were to prevail over Jeffries, sources have told PolitickerNJ.com that both Pintor-Marin and Ruiz could be targeted by Baraka allies in the 2015 and 2017 state legislative elections, respectively.