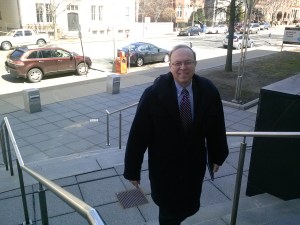 TRENTON – A man in a dark topcoat approached 225 West State Street.
It was Ramapo College Finance Prof. Murray Sabrin, here to turn in petition signatures for his U.S. Senate campaign.
Sabrin wants to stake out the most conservative turf in the Republican Primary, and hears one of his rivals, cement business owner Brian Goldberg, plying an infuriating, no-ideas message, in Sabrin's opinion.
If Goldberg stands out as a target in a five-man contest to face U.S. Sen. Cory Booker (D-NJ) it's becasue he scored the most county lines (seven) during the convention season.
"Have you ever heard him speak?" said Sabrin on the elevator up to the fifth floor state Division of Elections. "There's no substance. It's happy talk."
Sabrin disagrees with the pro-choice Goldberg on abortion.
But he says his rival would be a disaster all the way around as a general election alternative to Booker.
"The only way to win this election is to show how Cory Booker's ideas are wrong for the state," the professor said. "I am going to show the sharpest contrast possible."