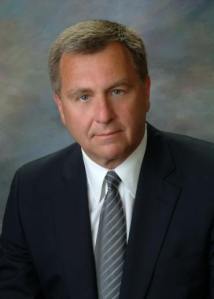 JERSEY CITY – Port Authority Chairman David Samson apologized to the people who packed the room at the agency's regular board meeting Wednesday for the delay, delivered brief words and took part in a quick procedural vote – and then bowed out.
Samson, a Gov. Chris Christie appointee who has come under criticism since the George Washington Bridge lane closure controversy began dominating the headlines, walked out of a regular board meeting where nearly 100 attendees packed the room to lob criticisms at the chairman and fellow board members.
"In light of the subject of today's public comments [and] … given my recusal, I will excuse myself," Samson said. "I guess we'll turn over to the vice chairman."
Samson explained he thought it appropriate to leave given the stated topic of many of the people who signed up to speak. The dominating topic, he said, was airport raises – an issue he said he's recused himself from in the past.
"When this issue first arose a couple of months ago … I formally recuse myself and have not participated in any consideration or discussion of this issue," he said at the beginning of the regular board meeting.
The chairman left the room after about 10 minutes.
Bergen County Freeholder Jim Tedesco was among the individuals in the audience calling on Samson's resignation.
"This is behavior that is not acceptable," Tedesco told the board members sometime after Samson left the room.
"It is unconscionable for you to continue to sit ideally by and not address what took place," he said, holding two resolutions passed by the freeholders that call for Samson and New Jersey appointees to step down.
Earlier in the day, as many as two dozen protesters converged outside of the Port Authority building in Jersey City to demand Samson's resignation.