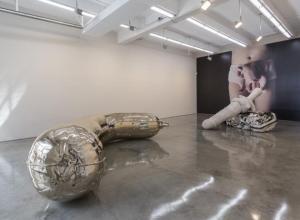 The British Council announced today that it has tapped Sarah Lucas to represent Great Britain at the 2015 Venice Biennale, which opens next May.
"Widely recognised as one of Britain's foremost contemporary artists, Lucas's work has consistently been characterised by its irreverent humour and deft use of 'readymade' objects—furniture, food, tabloid newspapers, tights, toilets, cigarettes," the group said in a statement.
Ms. Lucas has been on a tear recently, appearing last year in both the Carnegie International and Massimiliano Gioni's main Venice Biennale exhibition. She also has a great show up right now at Gladstone Gallery's West 24th Street branch that has her taking her typically libidinous, irreverent, frankly hilarious sculpture to new heights.
Previous British representatives in Venice include Jeremy Deller (2013), Mike Nelson (2011) and Steve McQueen (2009).