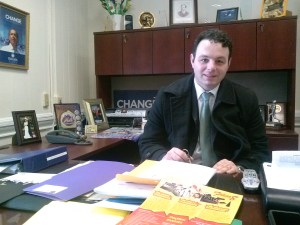 PATERSON – The door to the office of the council president was open and down a short hallway in a corner office sat Andre Sayegh, the man looking to dethrone Mayor Jeff Jones, who now occupies the sprawling digs one floor below.
"We just suffered the first casualties of the campaiogn," said Sayegh with a grin, before kicking out a leg and hanging a polished loafer in midair.
He presented the new pair of shoes as the replacements for the pair he says he wore out pounding on doors.
"I just bought two new pairs of shoes," said the council president. "This will be the consummate retail politics campaign. Paterson is not seen as a political machine city. You really have to take your case to the voters, and I'm really focused on that."
Sayegh's rival, Jones, filed 1,125 petition signatures earlier this afternoon.
"I filed close to 2,000," Sayegh said with a grin, "and we did it within two weeks. It shows we're very serious."
Does it show that Jones is not serious, filing on the day of the dealine, PolitickerNJ asked Sayegh.
"I'm only focused on my campaign," he said, which formally launches on Saturday, March 15th in front of the house where Sayegh's mother raised him and where he now cares for her and his young, growing family.