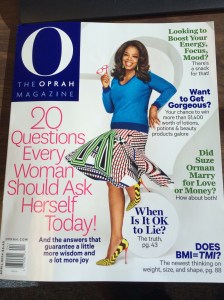 Brooklyn State Senator Daniel Squadron spends a lot of his time drafting and negotiating legislation in Albany. But he also has other hobbies.
In the April edition of O, Oprah Winfrey's magazine, Mr. Squadron reviews March: Book One, the graphic novel by Georgia Congressman John Lewis, a civil rights leader.
"It's not often that a congressman stars in his own autobiographical comic book, but that's exactly the role Rep. John Lewis (D-GA) plays in the graphic memoir," Mr. Squadron wrote in the approving review, which can be viewed in full below.
"March is both an important first-person account for any student of the era and a riveting chronicle of Lewis's extraordinary life. An Alabama share-cropper's son–a boy preacher whose first flock was made up of his family's chickens–he spoke alongside King at the March on Washington when he was only 23," continued Mr. Squadron. "In this memoir Lewis–an elder in our midst–speaks for all those who paved the way and ensures that their legacy will live on."
In a brief phone interview this afternoon, Mr. Squadron told the Observer an unnamed staffer at the magazine familiar with his passion for civil rights issues reached out and he jumped at the opportunity.
"Who isn't? Who isn't?" he said when asked if he was a fan of Ms. Winfrey. "Look, what's done in the book club has brought writers and books to a much wider audience."
This was not Mr. Squadron's first foray into literature. He also served as a co-author on Senator Chuck Schumer's book, Positively American: Winning Back the Middle-Class Majority One Family at a Time–but insisted that didn't make him a scribe.
"I wouldn't call myself a writer," he cautioned. "I'm a senator."
Click on the image below to enlarge the review: