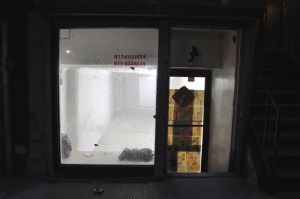 Shoot the Lobster, the project space founded by Chelsea dealer Jose Martos, has departed the back room of his West 29th Street gallery for new digs on the Lower East Side, landing in a semi-subterranean space on Eldridge Street.
"We were getting kind of sick of how the programming became too much like a typical gallery and functioned on a typical gallery schedule, so this allows us to be more experimental," Taylor Trabulus, the director of Martos Gallery, said of STL. She was standing in the narrow, 500-square-foot tunnel of a room with Alexander Shulan, a writer and curator who works for artist Robert Wilson and will co-direct the new space. The two are leaving light renovations like repainting the streaky walls and replacing the harsh florescent lighting until after the first show, which opens this Friday, March 7. 
"It's not too precious or anything," said Ms. Trabulus with a laugh. "Definitely not."
Martos Gallery, which recently began formally representing a roster of artists after long maintaining a more laissez faire policy of doing shows with artists represented by other galleries, will use the former STL space in Chelsea as an office and show room. Both Ms. Trabulus and Mr. Shulan emphasized that they see the envision the new space as a place where people will convene and one that can be used for projects that cross over into other fields like music. The space, located at 138 Eldridge, will be open Thursdays through Sundays from noon to 6 p.m.
The inaugural show, which Mr. Shulan organized with artist Jason Lee (their collaborations go under the name Jason Alexander), will feature work by Ben Schumacher, Bradley Kronz, Robert Bittenbender, Jeffrey Joyal, Amy Yao, Valerie Keane, Jared Madere, Jason Matthew Lee, Dena Yago, Luke Schumacher, David Flaugher and Georgina Braoudakis. The work, said Mr. Shulan, is all over the place but shares a "running sense of humor that's influenced by trolling on the Internet and computer hacking." Much of it, he said, will complement the derelict look of the space, which used to be a fish market (it still sports a drain in the center of the concrete floor). Mr. Madere recently installed a piece involving dead squid at The Hole, but the show at STL, despite the space's history, will be less fragrant.
"Nothing that attracts vermin," said Ms. Trabulus. "That's our one boundary."