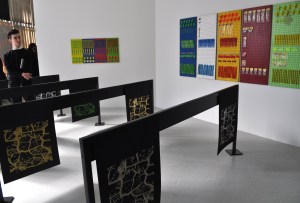 An hour into the opening day of Independent, the 5-year-old art fair located in the old Dia Art Foundation building on West 22nd Street, every floor of was packed with visitors escaping the arctic climate outside. An installation by artist Amy O'Neill, presented by Karma, the downtown bookstore, publisher and project space, offered a little crowd control.

The booth, such as it is (Independent's walls are arranged in ways that subdivide the space without breaking it into predictable aisles and cubes), was occupied by fence-like rails. Each of these sculptures sports two square flags of sorts, which were printed with a cracked pattern. They were mud flaps designed for 18-wheeler trucks, explained Karma owner Brendan Dugan. The artist, Amy O'Neill, sourced them from a place in Pennsylvania "where people trick out their tractor trailers."

On the walls were a few of her "slum paintings," which involve plastic bird whistles, sheriff's badges and other toys collected from carnival games mounted on brightly painted perforated panels. The sculptures with the flaps, each priced at $12,000, suggested lines leading up to the prizes. Ms. O'Neill's installation will be on view until Saturday, when Mr. Dugan will switch over to a presentation of work by Will Boone, who recently exhibited some of his word paintings—graphic black-on-white stenciled letters that overlap to the point of abstraction—at Karma last summer. Some of these will grace the booth's walls, along with sculptures such as a bench that Mr. Boone recently made out of an NYPD filing cabinet that he found on the street. The two artists share a "dark kind of American content," Mr. Dugan said.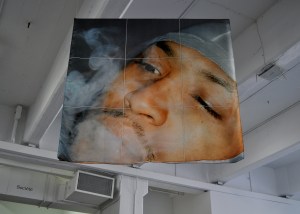 Upstairs on the third floor, visitors were greeted by a large silk satin scarf hanging from the ceiling above Artists Space's booth. A work by Frances Stark, it depicted a man exhaling a lush cloud of smoke. Ms. Stark, a big star at the 2013 Carnegie International, said she met her subject, Deavron Dailey, at the exhibition, where he was involved in launching the Art Lending Collection at the Braddock Carnegie Library. The two hit it off, said Ms. Stark, who was modeling one of the scarves around her neck. She showed us a photo on her Instagram of how the scarves are folded up in neat little boxes. Instagram, in fact, gave her the idea to superimpose gray lines over the image. "I put the photo on Instagram and when you do that, it shows the grid," she said. "I just really liked it." The scarves were being sold in an edition of 25, each priced at $300. A cotton run is in the works.
Nearby, visitors in David Lewis's booth were clustered around a large, anthropomorphic tree trunk suspended from the ceiling by rusty chains. It looked a little bit like a scene sourced from a dendrophilia bondage flick, an image that was intensified by one bold fairgoer (presumably a friend of Mr. Lewis) who took the end of one chain and proudly placed it in the front of his pants. It was unclear what kind of reaction he was expecting.
The monumental piece is by British-born octogenarian artist Gillian Jagger, who lives upstate. It's priced at $60,000 and weighs close to a ton. Would Mr. Lewis find a collector with a ceiling capable of holding it up? "We'll see," he said, scanning the room. The fair, it's true, was only just beginning.